100% of proceeds will be donated to International Rescue Committee and BKP California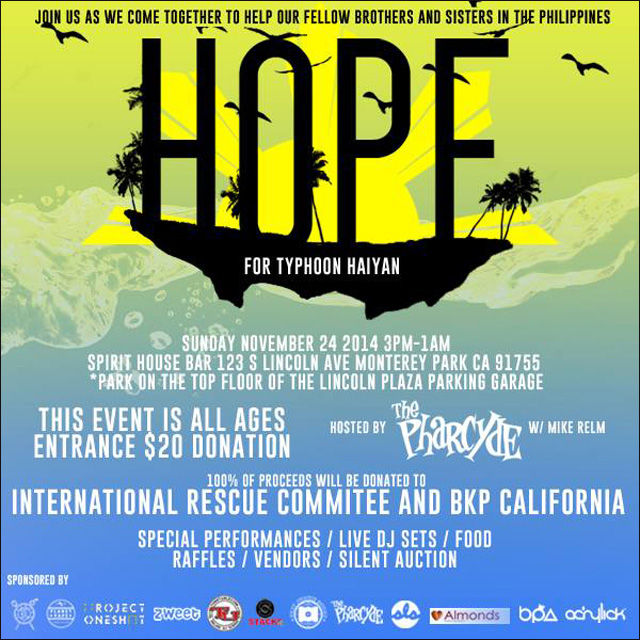 Another great fundraising event for disaster relief... For folks in Southern California, you're invited to
Hope for Typhoon Haiyan
, a benefit event featuring live performances from the Pharcyde, Mike Relm, DJ Rhettmatic and many more, plus music, food, and a raffle with great prizes including Lakers tickets. It's happening Sunday, November 24 at the Spirit House in Monterey Park. Here are some more details:
HOPE for Typhoon Haiyan

Sunday, November 24th, 2013
1PM - 2AM

Hosted by The Pharcyde with Mike Relm with a special performance

Performances start at 2pm sharp***

100% of proceeds will help Typhoon Haiyan victims.

Entrance: $20 Donation
All Ages

Inside DJ's Performers
2:00PM: Bobbito
2:45PM: Howard Delirium
3:30PM: Myster E?
4:15PM: Icy Ice
5:00PM: Pudge
5:45PM: Ingwell
6:30PM: Erok
7:15PM: Pharcyde Break
8:00PM: Logue
8:25PM: EVMB
9:30PM: Roial1
10:15PM: Pjay
11:00PM: Zeb

Outside Performers
2:00PM - Italix
2:30PM - Alter Egos
3:00PM - Iris Leonardo
3:30PM - Adi Rodriguez
3:45PM - K Cero
4:00PM - Vox/Harmony
4:25PM - J Riel
4:45PM - Aleonb
5:05PM - Chris Lee
5:25PM - O Muse
5:45PM - D Hills
5:55PM - Chuckdantana
6:00PM - Rhettmatic
7:00PM - Pharcyde with Mike Relm

Also featuring...
Food
Raffles
Vendors
Silent Auction

Location:
Spirit House Bar
123 S Lincoln Ave
Monterey Park, CA 91755
Park on the top floor of the Lincoln Plaza Hotel parking garage

A $20 donation gets you in. 100% of the proceeds will be donated to relief efforts manned by International Rescue Committe and Bagong Kulturang Pilipino, Inc. Come out and support a worthy cause. For further information about the event, go to the
Facebook event
.