Ms. Marvel returns as a 16-year-old Muslim American teenage girl from New Jersey.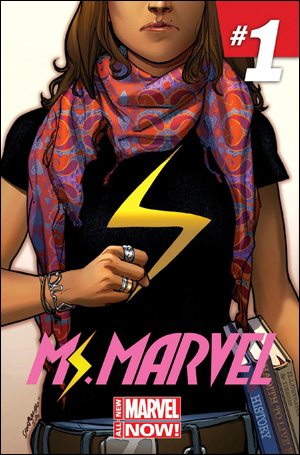 This is pretty awesome comic book news... Marvel Comics is introducing a new kind of superhero for these modern times -- a reintroduction of Ms. Marvel -- who happens to be an average (albeit super-powered) Muslim American teenage girl:
In Marvel Comics, Ms Marvel Returns as Muslim Teen
.
This week, Marvel announced a new
Ms. Marvel
series whose lead character is a superhero of the Islamic faith. Meet Kamala Khan, the 16-year-old daughter of Pakistani immigrants living in Jersey City, and the latest heroine to don the mask of Ms. Marvel. Considering that the previous Ms. Marvel is a buxom, blue-eyed blonde, I'd say this is a fairly significant development.
Kamala, the creation of writer G. Willow Wilson, artist Adrian Alphona and editor Sana Amanat, is the first-ever female Muslim title character to get her own monthly book from a mainstream publisher.
Kamala, whose family is from Pakistan, has devotedly followed the career of the blond, blue-eyed Carol Danvers, who now goes by Captain Marvel, a name she inherited from a male hero. When Kamala discovers her powers, including the ability to change shape, she takes on the code name Ms. Marvel - what Carol called herself when she began her superhero career.

"Captain Marvel represents an ideal that Kamala pines for," Ms. Wilson said. "She's strong, beautiful and doesn't have any of the baggage of being Pakistani and 'different.'"

Ms. Amanat said, "It's also sort of like when I was a little girl and wanted to be Tiffani-Amber Thiessen," from "Saved by the Bell."

Kamala will face struggles outside her own head, including conflicts close to home. "Her brother is extremely conservative," Ms. Amanat said. "Her mom is paranoid that she's going to touch a boy and get pregnant. Her father wants her to concentrate on her studies and become a doctor." Next to those challenges, fighting supervillains may be a respite.

It sounds like Kamala is a regular American teenager just trying to figure out who she is while dealing with the responsibility of having superpowers -- not unlike Peter Parker, your friendly neighborhood Spider-Man.
The new Ms. Marvel will be introduced in a special issue in January before her series begins in February.
More here:
Mighty, Muslim and Leaping Off the Page
.