Chinese American groups demand late night host's firing for "kill everyone in China" remark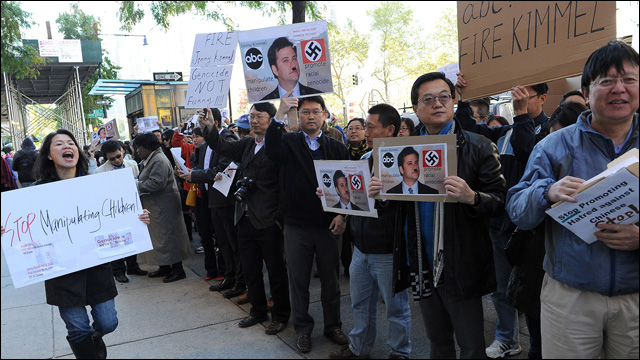 Man, this Jimmy Kimmel controversy appears to have some legs. Over the weekend, protestors gathered in cities across the country in response to the late night talk show host's recent segment which jokingly suggested that we
"killing everyone in China."
On Saturday in Burbank, more than a thousand people picketed ABC's headquarters:
Protestors slam Jimmy Kimmel over 'kill everyone in China' joke
.
During the "Kids Table" segment, which aired last month, Kimmel gathered a group of children to get their take on politics and the economy. When asked how the United States should deal with its ballooning foreign debt, one of the kids suggested that we should "kill everyone in China." Obviously, it's just a kid being a kid, and kids say crazy things. But critics say the moment was irresponsible and should never have made it on the air.
Both Kimmel and ABC have since apologized for the segment, and quickly removed the clip from all public platforms. But these actions are apparently not enough:
ABC and Jimmy Kimmel have both apologized for a segment that aired on "Jimmy Kimmel Live" in mid-October that suggested the U.S. kill all Chinese people, but an organization representing 100 Chinese American organizations still isn't satisfied. It has called for a nationwide protest against ABC on Saturday in 27 cities, including a rally outside ABC's headquarters in Burbank.

Charles Lu, chairman of the Roundtable of Chinese American Organizations, said he wants a formal apology from ABC, not just to the groups protesting, but to all Chinese people around the world.

"We know ABC has issued an apology, but that is not enough," Lu said Thursday. "We want ABC to make a formal apology to all Chinese and do something in the future to avoid terrorist violence."

Last week, ABC issued the following statement: "We offer our sincere apology. We would never purposefully broadcast anything to upset the Chinese community, Asian community, anyone of Chinese descent or any community at large. Our objective is to entertain. We took swift action to minimize the distribution of the skit by removing it from all public platforms available to us and editing it out of any future airings of the show."

Meanwhile, a "We the People" petition, calling on the White House to investigate the segment, has racked up well over 100,000 signatures within a 30-day period -- the threshold to prompt to an official response to the issue:
How Jimmy Kimmel's China joke became an issue for the White House
.
And, of course, now there are growing business considerations for ABC and its parent company Disney:
How Will Disney Handle the ABC and Jimmy Kimmel Protests?