The second installment of the Tune series is on shelves now.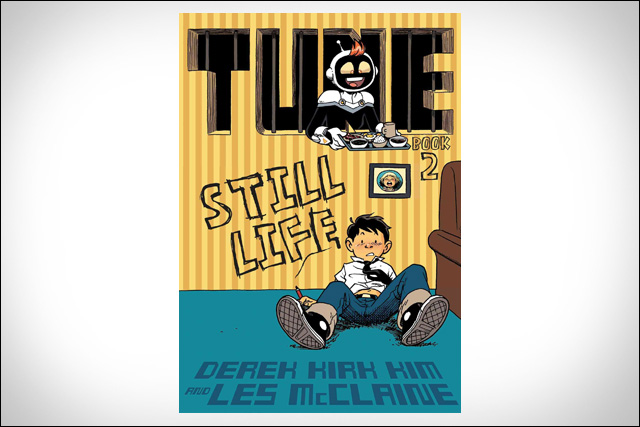 I'm a huge fan of Derek Kirk Kim. The award-winning graphic novelist is the author of
Same Difference
,
Good as Lily
(with Jesse Hamm),
The Eternal Smile
(with Gene Luen Yang) and writer/director behind the webseries
Mythomania
. I highly recommend checking out all of his work, including his latest book
Tune: Still Life
, which is out on shelves this week from First Second.
The book is the long-awaited second installment of the
Tune
series, a weird, quirky tale following the misadventures of Andy Go, a slacker art school dropout who finds himself recruited as the main attraction in an alien zoo. Like I said, it's weird, but also hilarious, surreal and sweet, and something that could only come from the genius mind of Derek Kirk Kim (with art by Les McClaine).
In the second installment of the TUNE series of graphic novels, our hapless hero Andy Go is settling into life in an alien zoo...as one of the exhibits. It's not so bad: the food is good, and his environment is a perfect copy of his house back on Earth. But everything falls to pieces when Andy realizes he's been tricked: there will be no weekend visits back to Earth, as he was promised, and his contract doesn't last one year...it lasts a lifetime.

Funny, sweet, and incredibly goofy, TUNE is Derek Kirk Kim writing at the top of his talents. Tune: Still Life introduces artist Les McClaine, who brings a new level of sensitivity to the story. Fans of the first volume will be delighted by this new entry in the series.

Get your copy
today
. For more information on Derek Kirk Kim and his comics, check out his
website
.