Prosecutors say that driver Alexian Lien has been healing well since the incident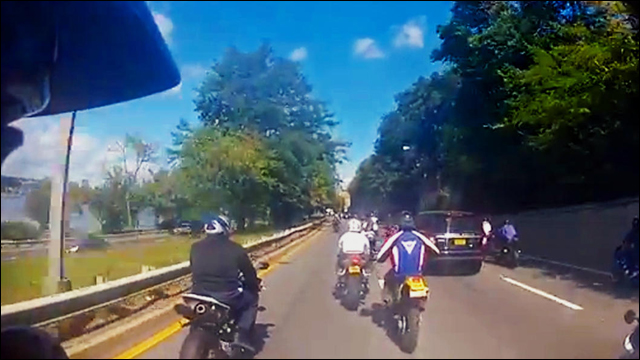 Another update on the case of that crazy Manhattan motorcycle melee involving a pack of bikers who chased down and beat an SUV driver in the street back in September... It looks like some of the assault charges against the bikers, including an off-duty undercover police officer, will be reduced.
Charges May Be Reduced for Bikers in Manhattan Highway Beating
If you haven't been following the case, here's the abridged version: A motorcyclist, riding with a pack, brake-checks a Range Rover and gets hit. Bikers surround the SUV. The driver, Alexian Lien -- who's with his wife and 2-year-old daughter -- takes off, plowing through several motorcycle riders and sparking a crazy pursuit on the West Side Highway. Driver gets chased down, pulled out of his car and beaten in front of his family.
According to prosecutors, Lien has been healing well since the incident, which means that the most severe assault charges, which require permanent disfigurement, would be lessened. However, even with the reduction, the bikers would still face assault charges that could put them in prison for a maximum of 15 years.
A prosecutor told a State Supreme Court judge in Manhattan on Friday that he would move to lessen the first-degree assault and gang assault charges because the victim's injuries were healing. Those charges require permanent disfigurement.

Assistant District Attorney Joshua Steinglass said the bikers would probably face charges of attempted assault and attempted gang assault. That means the men could face up to 15 years in prison instead of 25.

There are also plea deals in the works. Nothing official yet, but Biker Wojciech Braszczok was reportedly offered three years in prison. Others could receive deals from 60 days to eight years.
More here:
Bikers Accused In Road Rage Incident Could Get Plea Deals, Reduced Charges