Alhambra PD is the first U.S. law enforcement agency to sign up for the popular Chinese micro-blogging site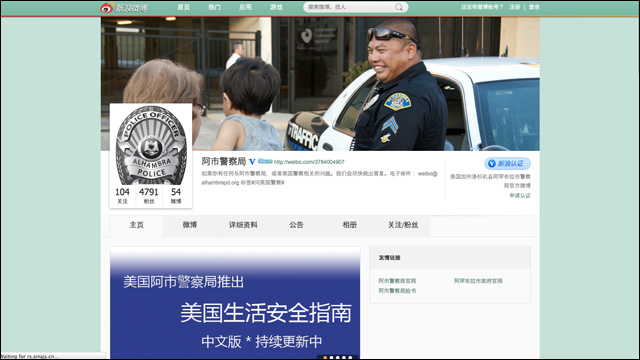 Chances are, your local law enforcement agency has a Facebook page or a Twitter account letting you know about the latest crime alerts or safety announcements. Big deal. Is your police department on Weibo?
Last week, in a unique effort to reach the city's Chinese immigrants, the Alhambra Police Department became the first law enforcement agency in the United States to open an official account on Weibo, the Chinese Twitter.
Alhambra PD is first US police department to launch Chinese Twitter (Weibo) account
According to the 2010 U.S. Census, about 53 percent of Alhambra's population is Asian, and of the city's 57,300 residents, about 30,000 are Chinese.
While Facebook and Twitter are blocked in mainland China, Weibo is one of the most widely used social media tools in the country. No doubt, its reach extends to Chinese communities here in the U.S. This will be first time the Alhambra Police Department releases official information in a language other than English.
Alhambra Police Chief Mark Yokoyama pulls up a page on his computer screen — his department's latest foray into social media.

The design of the page resembles the department's Facebook page and posts are limited to 140-characters like on Twitter. But virtually everything is written in Chinese.

"This is the homepage of the Weibo page for the police department," Yokoyama said. "Obviously I can't read this myself."

But many of the city's roughly 30,000 Chinese residents can. Weibo is the most popular microblogging website in China, owed in part to the government's ban on Twitter and Facebook. After moving to the U.S., many immigrants still visit Weibo to stay in touch with friends and relatives in China.

Yokoyama's hope is that immigrants who may not be proficient in English go on Weibo to get everything from updates on crime trends to tips on crime prevention.

Interesting. With the Alhambra Police Department hopping on Weibo, I imagine other cities with large, rapidly growing Chinese populations (Cupertino, Monterey Park, where you at?) can't be too far behind.
More here:
Alhambra police use Chinese microblogging site Weibo for outreach