Petitions called for Monterey citizens to welcome and support returning Japanese American internees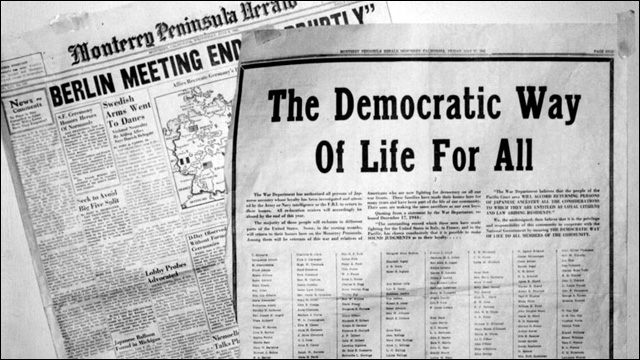 This is from several weeks ago, but it's a pretty interesting find... Earlier this year, a historian in Monterey, California uncovered a cache of documents dating back nearly seven decades, calling on the local community to welcome and support Japanese Americans returning from mass incarceration after World War II.
Forgotten documents reveal views on return of Japanese internees to Monterey Peninsula
.
The documents, found in a bank of file drawers at the Japanese American Citizens League Hall and dated May 9, 1945, are a collection of petitions calling for residents of Monterey to "insure the democratic way of life" for former Japanese American internees returning to the Monterey Peninsula in the months ahead.
The petition's signatories include some of the region's most prominent cultural figures, including Nobel Prize-winning novelist John Steinbeck:
Among the signatories were some of the most prominent cultural figures in the region, including Nobel Prize-winning novelist John Steinbeck; his best friend, celebrated marine biologist Ed Ricketts; photographer Edward Weston and his wife, the model-writer Charis Wilson Weston; artists Barbara and Ellwood Graham; and nationally renowned Big Sur poet Robinson Jeffers and his wife, Una.

The 440-plus names gathered during the petition drive were later listed in a huge full-page advertisement in The Herald on May 11, 1945, under the banner headline "The Democratic Way of Life for All."

In addition to the local literati, those who signed the petitions reflected a remarkably broad spectrum of the community at the time, including business and labor leaders, educators and journalists, attorneys and janitors, clergy and women who were holding down the home front while their husbands were off fighting the war.

The petitions were apparently part of a movement in opposition to virulent anti-Japanese sentiment that became a flashpoint in the area when it was announced that incarceration centers would be closed and that those of Japanese descent would be returning to their homes. It's fascinating piece of history, and nice to know that there were those who tried to stand up for what was right in the face of blatant bigotry in their community.
(Thanks, Todd.)