Patricio Ginelsa's "ultimate home made movie" cult hit celebrates ten years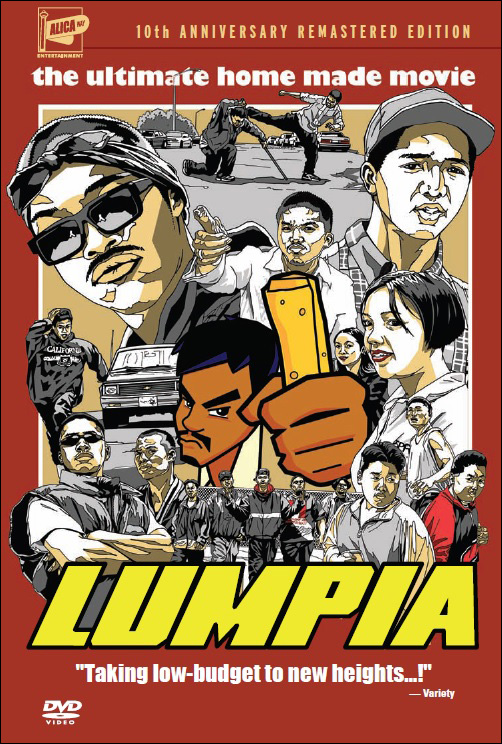 Our friend Patricio Ginelsa's Pinoy-powered home-made indie cult film
LUMPIA
is celebrating its 10th anniversary. To celebrate, they're releasing a
newly remastered and remixed DVD
, out this week.
Set at the fictional late-1990s Fogtown High School, LUMPIA is a defiantly low-budget action comedy tale of misfits, bullies, wayward youth, teenage longing and deep-friend justice. Seven years in the making,
Variety
calls LUMPIA "a youth project that got delightfully out of hand."
I've got some free DVDs to give away. Want one? Scroll down all the way to the bottom for details.
First, here are some more details about the DVD:
The ultimate home made movie returns in this definitive 10th anniversary edition. LUMPIA takes you back to the late-90's when tension is at an all-time high in Fogtown High School. James (Francis Custodio) and his misfit pack of friends do their best to stand up to Tyrone (Edward Baon) and his crew of thugs who have invented a new fad of (gulp!) F.O.B. bashing! But only one hero stands in their way... a silent avenger (Carlos Baon) who delivers justice one deep-fried LUMPIA at a time! With James falling for his classmate Kelly (Elizabeth Mendoza), will such a fighter be enough to ward off the one enemy that threatens to obliterate all? Remastered and remixed, LUMPIA sounds and looks MORE delicious than ever! Don't miss out on this home-made cult sensation and experience why LUMPIA is the 'youth project that got delightfully out of hand' (Variety)!

STUFFED with ALL NEW SPECIAL FEATURES -NEW 5.1 Surround and 2.0 Sound Mix
-Cast and crew audio commentary
-Music videos featuring The PACIFICS, InnerVoices, 10.01, Janice Aranas, Immij, 6th Day, Bambu, Hopie Spitshard, and Rocky Rivera
-Making of LUMPIA Featurette
-TV Spots and Trailer
-Blooper Reel

-Q&A from the 10th Anniversary cast/crew reunion screening
-NEW 10th Anniversary Featurettes
-Childhood short film: "The Green Magician"
-IN MEMORY: The Kid Heroes Tribute
-The LUMPIA Experience: Hear the movie with a sold out audience
-Deleted Scenes
-PREVIEW: "Kickstarting" the sequel LUMPIA 2

Also, if you happen to be in Southern California, you're invited to a
LUMPIA 10th Anniversary DVD Release & Kickstarter Celebration Party
, going down this Wednesday, December 11 in Cerritos. Here's some more info about the event:


Love Those LUMPIA Lovers! 10th Anniv. DVD Release & Kickstarter Celebration Party

Come party with us LUMPIA Lovers! It's the LUMPIA 10th Anniversary DVD Release & Kickstarter Celebration!

Hosted by Earl Baylon!!!!!!!!!!!!!!!!!!!!!

Wednesday, December 11, 2013
6:00 - 10:00 pm

Jeepney Asian Grill
11900 South St., Suite 101
Cerritos, CA 90703
www.jeepneyasiangrill.com

FREE ADMISSION!

5% of proceeds from ALL ORDERED MEALS/DRINKS between 6pm and 10pm will benefit the Typhoon Haiyan/Yolanda relief efforts.

- EAT, DRINK, & MINGLE with fellow LUMPIA Lovers!
- GET your NEW 10th Anniversary remastered LUMPIA DVD!
- GRAB your rewards early, Kickstarter backers!
- BECOME a new backer!
- SING Karaoke for PRIZES!
-Meet the LUMPIA crew!
- LEARN more about the upcoming sequel!

Meanwhile, the LUMPIA team is hard at work on a
Kickstarter-funded
sequel to their cult hit.
All right. So who wants to win a free DVD? I have five copies of the
Lumpia 10th Anniversary Remastered Edition
to give away to a few lucky readers. Here's how to enter for your chance to win:
Step 1:
Follow
@angryasianman
on Twitter.
Step 2:
Tweet this message:
I want to win a @LoveThatLUMPIA 10th Anniversary Edition DVD from @angryasianman! http://bit.ly/aam-lumpiadvd
Step 3:
From the entries, I'll randomly pick five lucky
LUMPIA
fans, who will each get a Lumpia 10th Anniversary Remastered Edition DVD.
Please, only one entry per person/Twitter account. Cheaters will be publicly shamed. The giveaway ends on Friday, December 13, 2013 at 11:59am PST. Winners will receive a Direct Message with further information. This giveaway is open to U.S. residents only. Sorry, rest of the world.
Good luck! Not feeling so lucky? You can always go ahead and order your own copy of
LUMPIA
from
Amazon
. For further info about all things
LUMPIA
, head over to the
website
and follow updates on
Facebook
.