A comedy about depression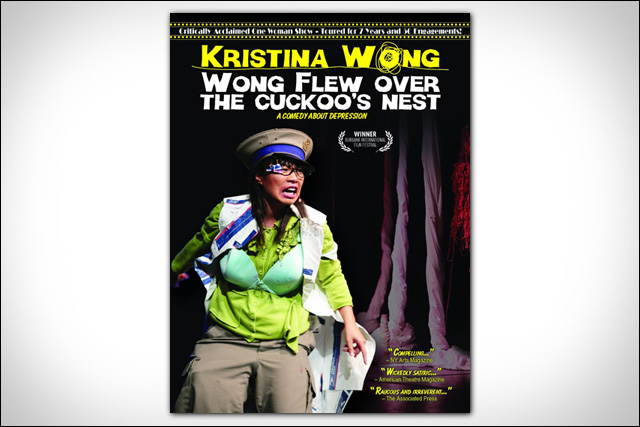 Whether it's professing obsessive
love for Jeremy Lin
on
Totally Biased
, or declaring "Suck it, white ladies!" in the
most awesome TV interview ever
, writer/performance artist/provocateur is full-time awesome.
So if you're a Kristina Wong superfan like me, then you should check out the feature film version of
Wong Flew Over the Cuckoo's Nest
, her critically-acclaimed one-woman show about suicide and depression among Asian American women, now available on DVD and VOD from Cinema Libre. Watch Kristina take the stage and use her show to cure all the mentally ill and suicidal Asian American women in just 85 minutes.
Okay, so that's kind of a lofty goal. According to a report from the American Psychological Association, suicide is the second leading cause of death among Asian American women aged 15-34. With this sobering statistic in mind, Kristina tackles taboos and says 'suck it' to stigmas, crafting a razor-sharp, insightful and hilarious show that examines the phenomena and stereotypes associated with Asian American women.
Here's the
trailer
to
Wong Flew Over the Cuckoo's Nest
:
And here's the official synopsis:
Hilarious Performance Artist Kristina Wong vows that at the end of her 80 minute, one woman show, she will save all Asian American women from the inexplicably high rates of suicide and depression affecting them. How is she so qualified? Because she's has never been depressed herself. Really! She even says that any autobiographical reference she makes to having been depressed is totally fictional. After all, what Chinese American family isn't perfect? Certainly not the Wongs!

Irreverent, clever, and insanely meta-theatrical, Wong's attempts at playing savior unravel faster than the nest of yarn she's perched on. She descends quickly into the divide between Asian porn stars and the impossibly perfect.

Along the way she becomes a hysterical living commentary on the cultural and societal pressures that may be creating depression in the first place.

Wong's Tour De Force performance played over seven years to 50 venues across the US.

Here are some more clips:
It's All Fiction!
Kristina Wong satirically advises the audience that her performance is purely "fictional" reflecting the way Asian American women are in denial about mental health and depression.
Nervous Breakdown:
Kristina recalls a memory of when she realized that her own family has no clue as to who she is and in doing so, takes us back to that night of her nervous breakdown.
Wong Are the World:
The audience joins Kristina in a collective karaoke session to a remake of the song "We are the World" but rather "Wong are the World" in a hilarious but honest approach on mental health among Asian American women.
Google Search Asian Woman:
Using the character-arc model of fictional storytelling, she searches for "real Asian women" and their own crisis. After searching celebrities such as Connie Chung and Lucy Liu, she finds herself frustrated by their lack of crisis so in turn, she searched "Asian Woman" only to a find a porn star with a heavy storyline.
The Biggest Audition of My Life:
Kristina re-enacts the time when she struggled to find free mental health care after a series of phone tag with the crisis hotline. She finally reaches her last attempt by scheduling an interview with a program director to see if she qualifies for the free help. In doing so, she prepares for her biggest "audition" in her life by playing the role of the ultimate candidate for the mentally distressed.
For further information about
Wong Flew Over the Cuckoo's Nest
the movie, visit
FlyingWong.com
or follow updates on
Facebook
. And for more on Kristina Wong the artist/citizen/personality, visit her
website
.