Questlove and Padma go there with the Ls and Rs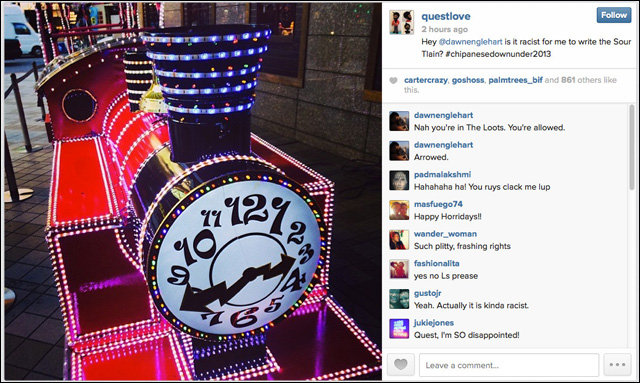 [UPDATE: Questlove has
apologized
for his comments. See below.]
At this point in the year, my brain is shutting down, I'm stuffing my face and settling into a state of personal reflection and
Twilight Zone
reruns. So when something like this comes across my desk, I'm feeling more annoyed than anything else. We couldn't close out the year without some more ignorant social media s%*t?
Questlove and Padma Lakshmi Under Fire for 'Racist' Asian Jokes
From personalities I kind of like, no less. Musician Aamir "Questlove" Thompson of The Roots and model/
Top Chef
host Padma Lakshmi have recently got into some trouble for comments exchanged on Twitter regarding Quest's travels through Japan, where The Roots are currently on tour. Somewhere along the way, he snapped a photo and just had to throw in the joke about the stereotypical, mixed-up mispronunciation of Ls and Rs.
Eye roll. But then his manager Dawn Englehart (who is of Asian descent) and Padma joined in: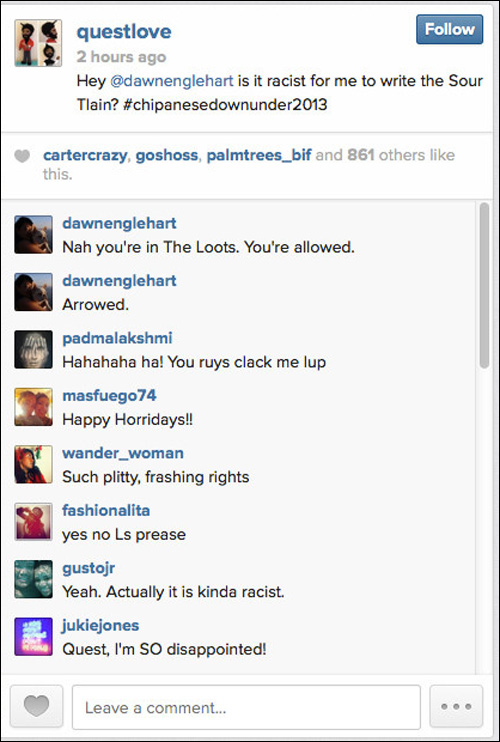 According to Mediaite, Questlove also posted a video of a woman speaking Japanese, offering his own commentary, "Ladies and gentlemen, they are talking in tongues." Naw, dude. That's called Japanese.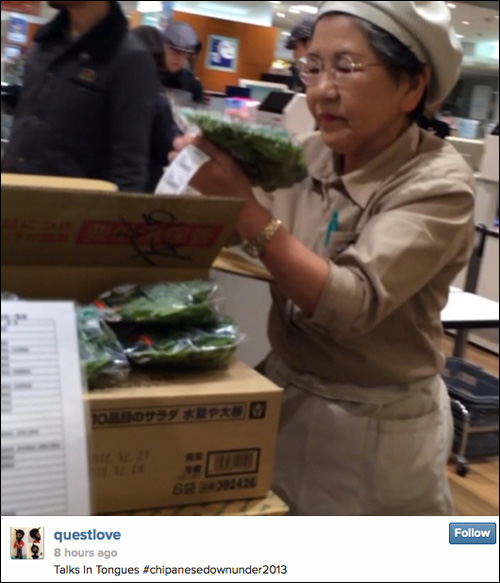 The posts have since been deleted, but gossip blog Oh No They Didn't! also noted a Vine in which Questlove shows a sleeping Japanese man aboard a bullet train, simply captioned: "McSnoleArot." Not getting old, it seems.
As a big fan of The Roots -- I own every album and even bought Questlove's book -- this is disappointing... mostly because it's such a tired joke. Enjoy the rest of your travels, Quest. Try to keep the cultural mocking to a minimum? And come on, Padma. Don't encourage that shit.
More here:
Questlove and Padma Lakshmi being racist. Blergh.
UPDATE: Questlove has posted an apology for his comments on
Facebook
:
ok. addressing the elephant in the room on christmas

unfortunately, i've offended my asian brothers & sisters with an IG post which i made during my recent tour of japan. in that post, i likened a japanese department store employee's vocal intonation to that of a (church) deacon speaking in tongues. clearly, i didn't intend to offend anyone (asian or otherwise), clearly, i *thought* that comparison was funny-cute

... and clearly i thought wrong.

in hindsight, it's easy to see how my post was yet another example of the ugly, american flipping yet another ugly/racially/culturally insensitive script. so, let me make this abundantly clear....

THE ISH THAT I SAID WAS DUMB (PERIOD).

And no, it wasn't Duck Dynasty/Phil Robertson mean spirited-xenophobic dumb (but the last time i checked, sleep was still the cousin of death)

---look. i'm a human being and dumber yet, i'm a public figure. if you're lucky enough to be either of the aforementioned, then not only should one stay clear of saying or writing hurtful things, one should actively work against feeling comfortable, thinking hurtful thoughts. given that black culture consistently finds itself at the butt end of so many offensive "outsider" jokes, I should be way, way more sensitive (after all, who's zooming who). I for one, should never allow my cultural bias to take precedence over my "examined life" (clunkers be damned). i know the whole kinder and gentler thing reeks of a self serving political correctness, but eff it, it's "all me".

so, here i am once again, publicly coming to terms with some more of my stupid "say, say, say" ish. allow me to ask for forgiveness and understanding from anyone that i've offended. I will be better in 2014 (i promise)

-thank you.

-akt

It doesn't really address the L/R thing that jokesters always want to beat to death. But he seems to get where the criticism is coming from.
UPDATE: Here is Padma Lakshmi's
apology
:
A few days ago I commented on a post by my friend Questlove, which angered and offended many. It was a thoughtless passing joke, but I know that things said without thinking can be harmful and hurtful. As a person who has experienced firsthand the effects of racism, as well as the sting of negative comments based on my skin or ethnicity, I should have known better. As an Asian, I have no right to add to stereotypes of other Asians. I am simply, sorry. No excuses. Nothing more.

This is a classy apology.