Victim Sophia Liu would have turned 7 years old this week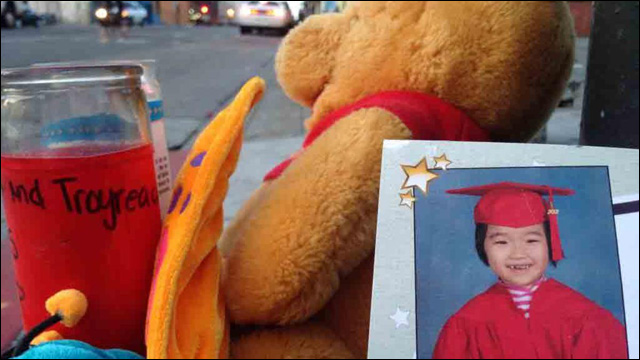 This is a heartbreaking story out of San Francisco, where a family has been devastated by the death of a young girl who was hit by a car last week. A fundraising drive has been started to help the family.
Mother of girl killed by driver in San Francisco speaks
Sophia Liu, who would have turned 7 years old today, was struck and killed while crossing the street on New Year's Eve. Her family was walking home from dinner in the Tenderloin neighborhood when a driver hit them as they were in crosswalk. Liu's mother Huan Kuang was seriously injured, and her younger brother was also hurt.
Parents from the children's school have started a fundraising drive to help Sophia's family cover costs in their of time of need. The fund has collected more than $11,000 for the family since Saturday.
Kuang says she is living a nightmare. She has broken bones, but more than that a broken heart. She and her children were returning from a family dinner on New Year's Eve when a driver hit them as they were in the crosswalk in San Francisco's Tenderloin neighborhood. The accident killed Kuang's daughter Sophia Liu.

"The truck coming to us and slowed down, so I make eye-contact to the driver. He slowed down, really slow; I was thinking he would stop," said Kuang.

Kuang says she has lost her angel. Her 5-year-old son Anthony was also hurt. He doesn't understand his sister is gone.

Police arrested 57-year-old Syed Muzzafar, a driver for the on-demand car service Uber, in connection with the accident. He wasn't working at the time time of the collision, and police say drugs or alcohol are not believed to be a factor.
To donate to the Sophia Liu Memorial Fund, the Wells Fargo Bank account is: #915378845. You can also donate at
YouCaring.com
.
More here:
Uber Driver Arrested in San Francisco Crash That Killed Girl