Alexian Lien accuses the police department of failing to properly train officers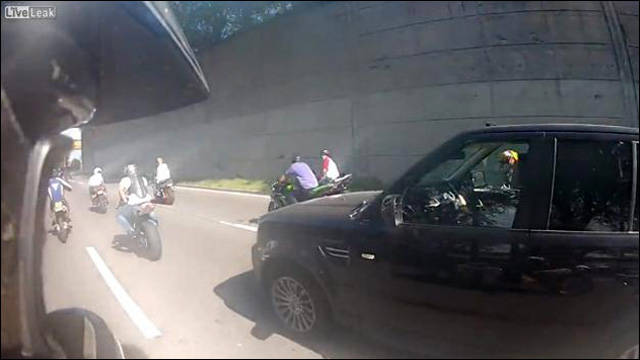 Remember that crazy
motorcycle mob attack
? The man who was chased down, dragged from his SUV, and beat down by a pack of bikers has filed a legal notice saying he intends to sue New York City over the incident.
Alexian Lien, Man Attacked By Motorcyclists, Files Legal Claim Against New York City
Alexian Lien, who was pursued and assaulted by a group of motorcyclists -- including undercover NYPD officers Wojciech Braszczok and Matthew Rodriguez -- on September 29, filed a formal "notice of claim" against the city last month. His wife and two-year-old daughter were both in the car when the mob smashed their windows, pulled Lien from the driver's seat and beat him in the street.
The claim accuses the police department of failing to properly train officers:
Alexian Lien filed the complaint on behalf of his himself, his wife, ­Rosalyn Ng, and their ­2-year-old daughter who were in the family's Range Rover during the brutal confrontation on Sept. 29, 2013.

"A vicious and unruly mob of motorcycle riders" "attacked and assaulted" Lien and "vandalized his motor vehicle" by smashing a rear window where his toddler was sitting, according to his notice of claim filed on Dec. 24.

Video footage shows Braszczok, an undercover detective, breaking one of the windows.

He pleaded not guilty to assault charges in November.

Lien is asserting that the NYPD was negligent for failing to properly hire and train its officers.

At the moment, it's just a notice of claim. But you can bet your ass a full lawsuit is coming.
More here:
Victim of motorcyle gang beating sues city, biker cops