The much-anticipated new album from the legendary DJ Qbert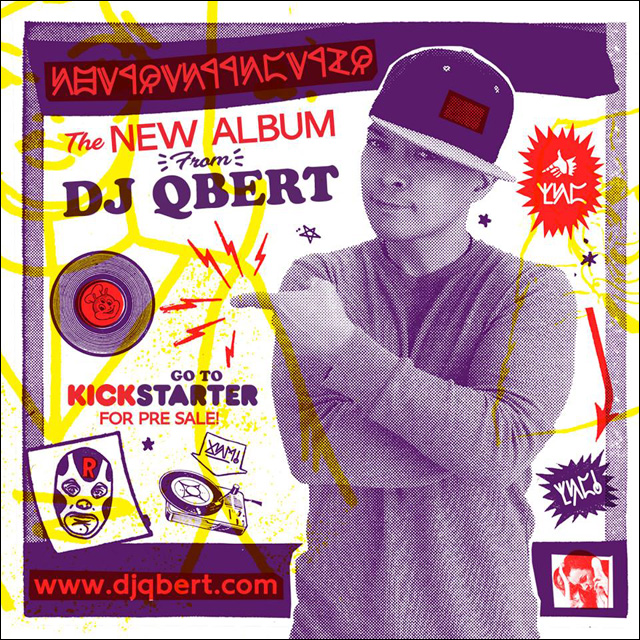 Awwwww yeah. The legendary DJ Qbert has been hard at work on not one, but two new albums,
Extraterrestria
and
Galaxxxian
, and he's launched
Kickstarter
to deliver them from the cosmos.
Extraterrestria
is the turntable deity's much-anticipated follow up to his groundbreaking debut album and feature film
Wave Twisters
. The album features Qbert's signature skratching, plus contributions from the likes of cellist and trombonist Dana Leong, super producer Chad Hugo and DrunkTronica duo Tipsy. It's described as "a wide collection of various types of music from other planets and dimensions from around the galaxy."
The second record,
Galaxxxian
, is a compilation featuring DJ Qbert's skratching paired with an incredible roster of talented emcees, including Kool Keith, Del The Funkyhomosapien, Bambu, Soul Khan, Mr.Lif, El-P, Madchild, DZK, Roscoe Umali, Tassho Pearce, The FMD & Z-Man.
The two albums are already recorded, mixed and mastered, so it's time to deliver. So they've launched the
Kickstarter
to get your pre-order on. They've also developed some pretty amazing next-level album packaging:
To come up with up the most captivating and innovative album packaging, we teamed-up with Brooklyn-based Morning Breath, Inc. Morning Breath is Doug Cunningham & Jason Noto. Over the past decade the two have combined their talents to create graphics for many recording artist, apparel & products, as well as many solid ad campaigns. The duo is looking to raise the bar on the album artwork for this project. "Our goal is to match QBert's artistry from a visual point of view, and leave the fans with one of the most exciting album packages to date."

With DJ QBert's partnership with Algoriddim's DJay app and Novalia's capacitive touch technology collaboration, Thud Rumble was able to conceptualize and develop the WORLD'S FIRST INTERACTIVE ALBUM PACKAGING. With this innovation, the album's gatefold cover is transformed into an actual DJ controller. By accessing DJ QBert's album (or any MP3) through the DJay app, you're able to manipulate and effect the songs with the use of the built-in controller. This feature will be available for both vinyl and CD packaging. :D

Taking our cues from Grammy Award for Best Recording Package awardees, both aesthetic and interactive features of the album packaging we're carefully designed for a truly unique and immersive medium; rivaling that of past Grammy winners.

Turntable superfans, you know what's up. This is a must-have record. The goal is to raise $100,000 by February 15. For further information about the project, and to make a pledge, head over to Qbert's
Kickstarter
.