Rock the Rooster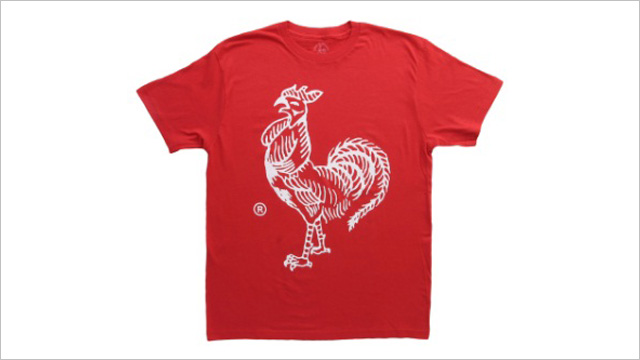 The rooster. Sriracha fans know and love the iconic image of the rooster that adorns the green-tipped bottles of their favorite hot sauce. The rooster is synonymous with that Huy Fong flavor. And now you can rock it on a t-shirt. With this official rooster logo design from
Shirts.com
, you can declare your spicy love for Sriracha. Rumor has it, the shirt's red dye is made from actual Sriracha sauce.*
So... does anyone want a Sriracha Hot Sauce Logo t-shirt? Of course you do. I've got two of these spicy shirts to give away to lucky readers. Here are some easy steps to enter for your chance to win:
Step 1:
Follow
@angryasianman
on Twitter.
Step 2:
Tweet this message:
I'm spicy! And I want to win a #Sriracha t-shirt from @angryasianman! http://bit.ly/aam-srirachashirt
Step 3:
From the entries, I'll randomly pick two lucky hot sauce fans, who will each get a Sriracha t-shirt.
Please, only one entry per person/Twitter account. Cheaters will be publicly shamed. The giveaway ends on Monday, January 13, 2014 at 11:59am PST. Winners will receive a Direct Message with further information. This giveaway is open to U.S. mailing addresses only. Sorry, rest of the world.
Good luck! If you're not feeling so lucky, you can always order a shirt
here
.
*I totally made up this rumor right now.