Titan Lee-Hai was seen stark naked and apparently high on drugs before he died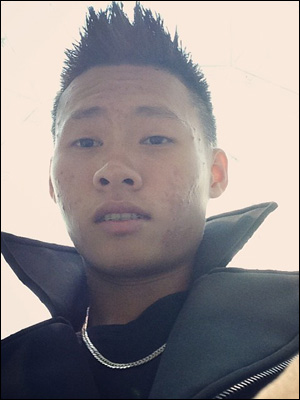 Another tragic story out of New York City, where a college student, reportedly stark naked and apparently under the influence of drugs, fell 15 stories to this death from the room of a dormitory.
NYU freshman, 18, was naked, on mushrooms just before fatal fall: sources
18-year-old Titan Lee-Hai, a New York University freshman from Trinidad, fell from NYU's Third North dorm at 3:20am on Monday, the semester's first day of classes.
According to one student, Lee-Hai was tripping on mushrooms. A classmate who encountered him in the elevator just before he died says Lee-Hai -- completely naked and "not in his senses" -- punched him in the face:
Lee-Hai confronted fellow freshman Shazim Khurshid, 19, in an elevator just before falling to his death.

"I met him in the elevator and he was completely naked," Khurshid said. "He punched me in the face."

Khurshid said the student asked him where he was.

"I didn't respond. He looked like he was on drugs, a lot of drugs," he said.

After Khurshid got off on the first floor, he reported Lee-Hai's behavior to security. He said he heard the fire alarm sound a few minutes later.

"If you pull the fire alarm all the doors are open," he said. "He pulled the alarm, he went to the roof and that's when he jumped off the building."

"It was pretty obvious that he was not in his senses," Khurshid said.

Police and the university are investigating what led up to Lee-Hai's death. The university said students could get help at a 24/7 mental health and crisis intervention program by calling (212) 443-9999 or going to wellness.exchange@nyu.edu.
More here:
NYU Student Who Fell To His Death Was Allegedly "Not In His Senses"