Wonderfully weird sequence says goodbye to the master animator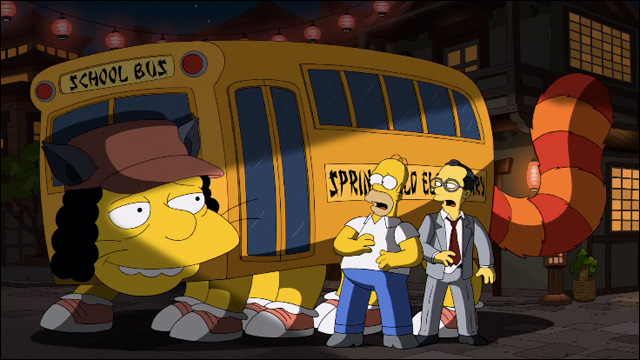 In this week's episode of
The Simpsons
, Springfield's number one geek and proprietor of The Android's Dungeon & Baseball Card Shop,
Comic Book Guy
, finds his true love: a manga artist named Kumiko. Let's face it: that sounds about right. And that's a cue for the show to do some Japanese stuff...
Like pay tribute to a legend. In this
crazy sequence
,
The Simpsons
tips its hat to legendary filmmaker Hayao Miyazaki, who announced that his latest animated feature
The Wind Rises
, would be his last. The wonderfully weird scene says goodbye with references to some of the master animator's most well-known films.
Take a look. From
My Neighbor Totoro
to
Spirited Away
, keen-eyed Studio Ghibli fans will dig this:
I could have done without the unnecessary ching chong font, but this is pretty cool.
More here:
The Simpsons Pays Tribute to Hayao Miyazaki