His sister was choking on a grape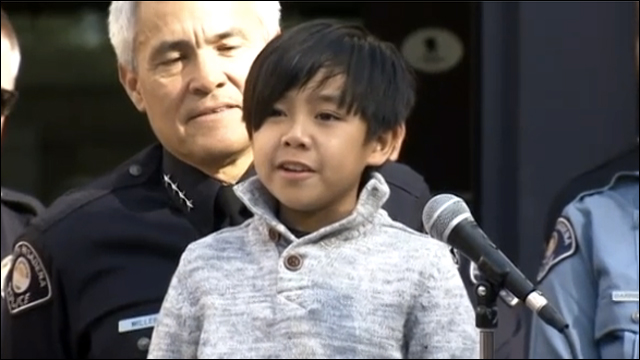 Give it up for the quick-thinking 9-year-old kid from South Pasadena who called 911 and helped save his little sister's life when she started choking on a grape. Last week at a news conference, police hailed him a hero.
9-year-old, others honored for saving choking girl in South Pasadena
On Thursday, Jaequon Santos and the paramedics who responded to his emergency call were honored by the South Pasadena Police Department. When his 3-year-old sister Yaleona began choking on her afternoon snack, Jaequon kept his cool and called 911, telling the operator that his sister was choking.
The trouble started when a Yaleona began choking on a grape that slipped down her trachea, quickly becoming a life-threatening emergency.
Jennifer Santos saw her daughter hopping up and down and then begin to fade in and out of consciousness, KABC-TV reported.

As she struggled for breath, the girl's mother told Jaequon to call the emergency number.

"My sister is dying," he said during the frantic call and several later ones. "She's choking! She's choking! She's choking!"

Meanwhile, Jennifer Santos brought took the girl out to a parkway in front of their apartment building where a passerby, Max Storer, stopped to perform cardiopulmonary resuscitation.

But not even arriving police and paramedics were able to remove the grape.

"It was slippery. Every time she would try to take a breath, it would draw back into her trachea and block her airway," Fire Department Capt. Eric Zanteson told KABC-TV.

The CPR, however, provided enough air to provide the girl with oxygen until doctors could remove the grape at a hospital. She has made a full recovery, police said.

Just so you know, grapes and hot dogs are major choking hazards for little kids. Little Yaleona found out the hard way, but thankfully everything turned out okay. Big props to Jaequon for being a brave older brother.
More here:
Boy Hailed as Hero for Calling 911 as Little Sister Choked