"Bullshit."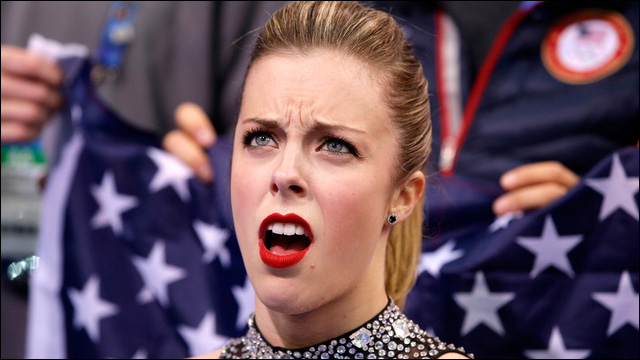 Whether or not you feel Mirai Nagasu
got snubbed
[raises hand] when Ashley Wagner was picked for the U.S. Olympic figure skating team, you'll probably find this pretty amusing. Over the weekend, cameras caught Wagner's unmistakable, brutally honest reaction to her short program score during ladies team competition.
Ashley Wagner's "Bullshit" Moment Is The First Meme Of The Sochi Games
Wagner received a score of 63.10, putting her in fourth place behind Mao Asada of Japan, who actually fell during her routine. It's clearly apparently she thought she'd do better. Simply put, she thought her score was
"bullshit."
Hey, I can't blame a competitive athlete for being honest. Of course, the moment was captured, instantly gif-ed and proliferated throughout the internet. Infamous.
Funny, I can't help but wonder if that's what Mirai Nagasu said about your spot at Sochi, Ashley.

Meanwhile, Nagasu posted a public statement last week on Facebook, keeping it real about her disappointment over U.S. Figure Skating's decision not to select her for the 2014 Olympic or World teams, but still wishing Wagner and the rest of the U.S. team the best of luck in Sochi.


I want to take this moment to thank everyone, fellow skaters and fans of the sport, who have reached out to me to offer support after the US championships. Not being chosen to represent the United States at the Olympic Games in Sochi and at the 2014 World Championships in Japan has been extremely disappointing to me, and it has been very difficult for me to process.

I know that I performed my best at the US Championships in Boston. I am proud of the way I skated and of being awarded the Bronze Medal.

The 2010 Olympics in Vancouver was one of the best experiences of my life and I am proud that I finished in 4th place. For the past four years my goal had been to make the Olympic Team again and pick up where I left off.

Not being selected to this year's team was devastating and I remain confused by US Figure Skating's decision to not select me for the 2014 Olympic or World teams. Once I have time to fully process the impact of these decisions, I do know it will renew a fire inside of me. My Olympic journey does not end here. I will continue to work hard, to train and grow and improve as a skater and realize my dream of once again representing the United States at an Olympic Games. In the immediate, I will jump back into my training in the event that I should be needed in my role as alternate for the Olympics or World Championships.

Most importantly, I want to wish Gracie, Polina, Ashley and the rest of the US Team the best of luck at the 2014 Olympic Games. Representing your country at the Olympics is one of the biggest honors and best experiences in an athlete's life, and I hope they all do well and have a great time. I will be watching and cheering them on.

The young lady is a class act.