Glendale, California memorial has become a flashpoint for international controversy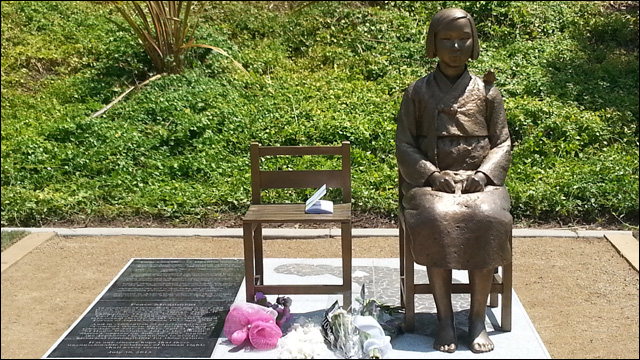 There is a battle raging in Glendale, California. The ongoing dispute is over a memorial honoring so-called "comfort women" -- women who were forced into sex slavery by invading Japanese troops during World War II. Last week, a Glendale resident and nonprofit group filed a lawsuit calling for the removal of the statue.
Comfort-women statue dispute continues
The 1,100-pound statue, which sits in Glendale's Central Park, is a memorial for the estimated 80,000 to 200,000 women from Korea, China, Indonesia and other countries who were coerced to work as prostitutes in military brothels against their will. The statue has been a point of international controversy and debate since its installation last July, with multiple delegations of Japanese politicians requesting its removal.
The plaintiffs, Glendale resident Michiko Shiota Gingery and GAHT-US Corp. -- an organization that fights against the recognition of comfort women -- straight up deny that Japan was involved in sexual slavery during World War II. The lawsuit alleges Glendale exceeded its municipal power and infringed on the U.S. Constitution in meddling with foreign affairs by erecting the statue.
Gingery claims she can no longer enjoy Central Park because the statue makes her suffer "feelings of exclusion, discomfort and anger." Sucks for you, Michiko.
The lawsuit was filed even though many former comfort women have publicly shared stories of their coercion and the Japanese Ministry of Foreign Affairs has stated that some comfort women working in brothels overseen by the government were deprived of their freedom.

According to the lawsuit, installing the statue "exceeds the power of Glendale, infringes upon the federal government's power to exclusively conduct the foreign affairs of the United States and violates the supremacy clause of the U.S. Constitution."

The lawsuit goes on to state that "by installing the public monument, Glendale has taken a position in the contentious and politically-sensitive international debate concerning the proper historical truth of the former comfort women."

Glendale is not the first public agency in the United States to install a comfort-woman monument on public land, but it is the first city on the West Coast to do so. Valued at about $30,000, Glendale's statue in Central Park, which features a woman in Korean garb sitting next to an empty chair, has reawakened an international debate.

Talk about epic, monumental denial. But the battle over a single statue in Glendale is part of a growing, concerted campaign by Japanese nationalists to rewrite wartime history push and back against comfort women charges. It's an international conflict that's going to get even uglier, with news that the Japanese government plans to revisit and review the Kono Statement, an official acknowledgement and apology for comfort women, issued in 1993 by then-chief cabinet secretary Yohei Kono.
More here:
Japan to Review Apology Made to Wartime 'Comfort Women'