Suspects are described as Asian males in their early 20s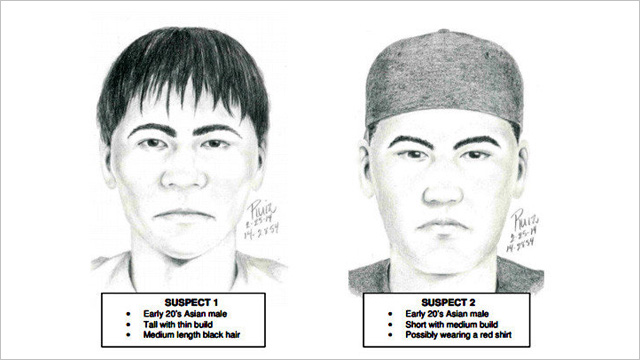 UC Santa Barbara police have released sketches of two men believed to have participated in the
beating and sexual assault
of a female student last Sunday. The suspects are described as Asian men.
Sketches released of suspects in gang rape of UCSB student
Investigators believe there were three suspects involved in the assault, but so far have only been able to get two sketches based on information they received from the victim. The 19-year-old UCSB student was beaten and raped by a group of suspects near campus in Isla Vista last weekend.
The student told police she was approached by a group of men in Isla Vista between 12:30 a.m. and 4 a.m. Sunday. The men pushed her to the ground and severely beat her before raping her, Romero said.

She managed to make it back to her apartment afterward and report the rape.

A witness reported seeing the woman alone walking north between midnight and 12:30 a.m. on a stretch of Embacadero del Mar near Segovia Road between the town's business and residential districts. The woman was not sure where the men attacked her, officials said.

The two suspects are described as Asian males in their early 20s. One is tall with a thin build and medium-length black hair. The other is short with a medium build and was possibly wearing a red shirt.
Anyone with information is asked to contact the UC Santa Barbara Police Department at (805) 893-3446. Anonymous tips can be submitted at (805) 681-4171.
More here:
UC Santa Barbara gang rape: Police release sketches of suspects