Indie found-footage sci-fi thriller comedy about a Vegas trip gone wrong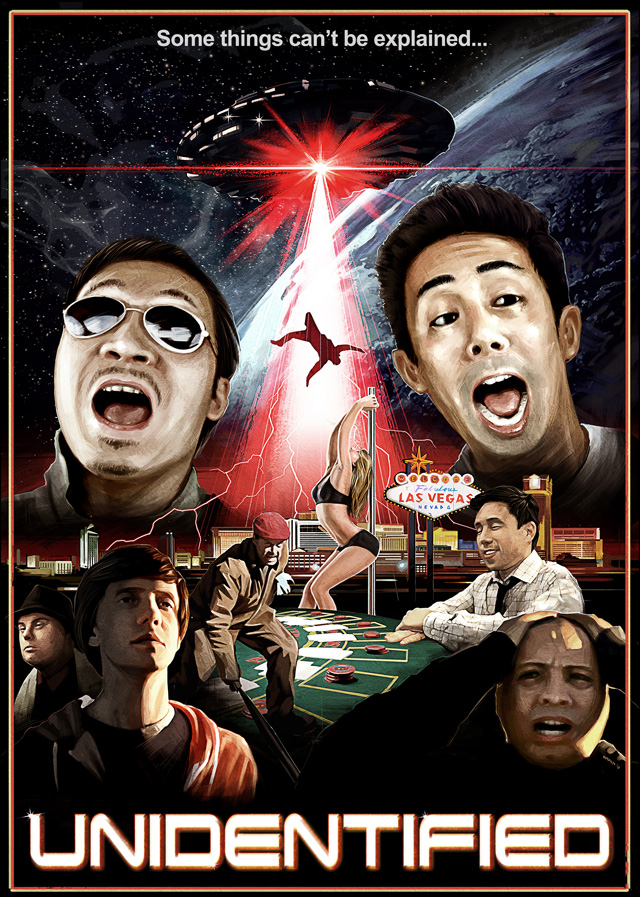 Hey, movie fans. If you're looking for something a little offbeat, I point you in the direction of the indie found-footage sci-fi/thriller/comedy
Unidentified
, about a trip to Vegas gone inexplicably very very very wrong.
Written and directed by Jason R. Miller, and starring Parry Shen, Colton Dunn, Eddie Mui and Eric Attell, the movie mixes science fiction, suspense and laughs to create a unique, crazy take on an otherworldly encounter. Our friends Parry and Eddie also put in double duty as producers on the project.
The movie is now available on DVD, Video On Demand and Digital Download -- iTunes, Amazon, Vudu, XBox, YouTube, Google Play -- pretty much wherever and however you prefer to watch.
Want to win an
Unidentified
prize pack? Scroll down for details on how to enter. But first, here's the
trailer
:
Here's a little more about the story:
During a wild weekend in Las Vegas, four young friends get into trouble with a loan shark and must skip town in a hurry. But gambling debts may be the least of their worries after they get stranded in the vast Nevada desert. One of the guys discovers a mysterious metal fragment and then promptly goes missing during the night. When the remaining three catch up with their lost friend, they notice something oddly different about him. As his condition worsens, the others realize that some unearthly being may be stalking them in the wilderness.

Now check out this really cool
behind-the-scenes clip
that shows how they launched a GoPro camera into space to film one of the out-of-this-world sequences in
Unidentified
:
Special features on the DVD include:
- Commentary with Writer-Director Jason R. Miller

- Jodieman YouTube Videos

- Unidentified Space Cam

- Trailer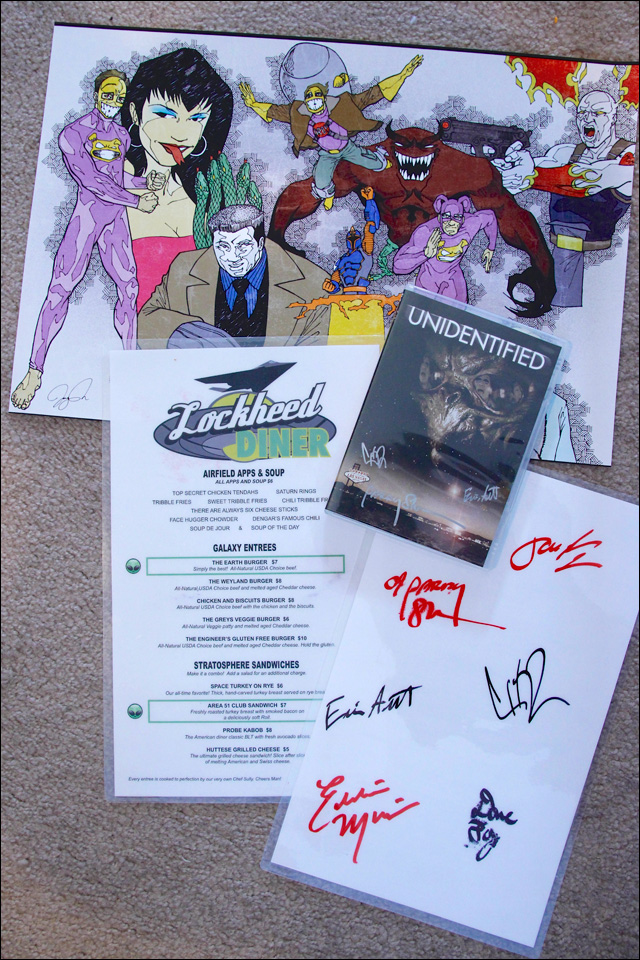 So... how about a giveaway? Who wants some cool free stuff from
Unidentified
? Yeah, you do. Two lucky readers will each receive a highly-coveted
Unidentified
DVD Prize Pack consisting of:
- Unidentified DVD signed by the cast

- 19" x 13" collage, color print of the Jodieman Universe of characters drawn and signed by artist Jerry Ma

- 14" x 9" laminated prop menus from Unidentified's diner scene, signed by actors Parry Shen, Eddie Mui, Colton Dunn, Eric Artell, David Foy and director Jason R. Miller

Here's how to enter for your chance to win:
Step 1:
Follow
@angryasianman
on Twitter.
Step 2:
Tweet this message:
I want to win an #UNIDENTIFIEDmovie DVD Prize Pack from @angryasianman http://bit.ly/aam-unidentified
Step 3:
From the entries, I'll randomly pick two lucky winners who will each receive an
Unidentified
DVD Prize Pack.
Please, only one entry per person/Twitter account. Cheaters will be publicly shamed. The giveaway ends on Friday, February 21, 2014 at 11:59am PST. Winners will receive a Direct Message with further information. This giveaway is open to U.S. mailing addresses only. Sorry, rest of the world.
Good luck! If you're not feeling so lucky, and would rather just drop a few bucks to watch the movie, the DVD is available from
Amazon
. You can also download it from
iTunes
,
Amazon Instant Video
and pretty much any other movie streaming service that's convenient for you. For a handy list, head over to the
website
.