Thank you to all the artists who helped celebrate this blog's anniversary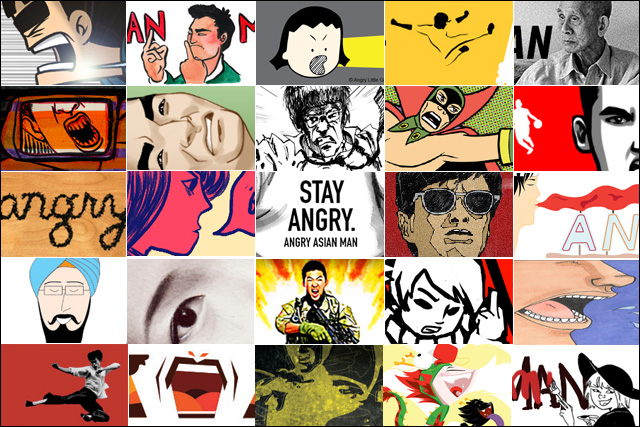 Last month, we commemorated this blog's 13th anniversary. To celebrate, I invited artists to submit their own interpretation of the Angry Asian Man banner art. The response I received was overwhelming and wonderful. Each day in February, for all 28 days, we were able to showcase a different artist's work, from award-winning cartoonists to design students, bored folks just messing around and everything in between.
A huge
thank you
to everyone who submitted artwork. This was so much fun, and I hope to do it again next year. In case you missed them, here's a recap of all the artists and their banners that ran last month.
February 1

Kimsun Vong
is a graphic artist based in Southern California. Other than focusing on the technology industry for over nine years, he is constantly seeking visual challenges including films and new media. He has exhibited artwork throughout North America, Europe and China. He is a graduate of UC Irvine with a degree in Studio Art and a Digital Arts Minor.
February 2

Tiffany Hu
is currently in her first year of law school in New York City. Before that, she graduated from the University of Michigan with degrees in art & design, communications, and Asian/Pacific Islander American Studies. She is also the creative director of
Mochi Magazine
, an online publication for young Asian American women.
February 3-4


Kyung Chyun
is a 1.5th generation Korean American from Lafayette, California. Currently attending California College of the Arts and studying illustration, her dream is to become an artist and a high school teacher. Her banners are adapted from her work titled, "Two Countries, One Heritage."
February 5

Vishavjit Singh
is the nation's first and only turbaned/bearded editorial cartoonist. He got his spark for cartooning following the upheaval filled days after 9/11. He brings turbanful characters to life on the 2-D pages of his computer aided by his right indexed finger on a touchpad. He also writes costume plays and is open to new adventures in life. His works can be consumed at
Sikhtoons.com
.
February 6

Yumi Sakugawa
is a comic book artist and the author of I THINK I AM IN FRIEND-LOVE WITH YOU (Adams Media, 2013). A graduate of the fine art program of University of California, Los Angeles, she is a regular comic contributor to The Rumpus and WonderHowTo. She currently lives in Southern California and is working on an anthology of short comic stories.
February 7

Winifred [Winnie] Gong
is a nutrition graduate in the Boston area that hates how people think Asians are deficient in calcium because they typically do not have dairy in their diet. She can be found in cafes, her natural habitat, drinking soy lattes while drawing, web surfing, or complaining to a friend about ignorant fools.
February 8

Chongchen Saelee
, or more notoriously known as Eastfist on the Interwebs, is a modern Renaissance man. He likes to draw, program, and wax poetry on topics that fuel his fire, and is a serious hardcore satirist. He is of Chinese, Hmong, and Mienh descent and currently lives in Green Bay, Wisconsin, USA. He's the Asian hero America needs right now, but not the one it deserves.
February 9

Eunice J. Son
is a recent graduate from the University of Illinois at Urbana-Champaign, graphic designer + illustrator, caffeine freak, and avid Kpop fan. Since her first Asian American Studies 100 class, she's been learning about race and how her experiences are shaping her identity as a second-generation Korean-American in the States.
February 10

Chris Yun
is a graphic designer and illustrator based in Brooklyn, New York. Emigrated from Korea to Rhode Island at 2. Was angry by 3. And was serious about getting drunk with Phil in Ktown when he comes to NYC. His work site is
chrisyun.net
, blog is
leadercomma.tumblr.com
, follow him at
@chulzbiya
, and his podcast is
Giant Korean Head
.
February 11-13



AP Quach
is the cartoonist and writer behind
Sassquach.com
. A screenwriter by trade, she began posting comics as a way to blow off steam between drafts and has since branched out, lending her artwork to long form stories and miniature graphic novels.
February 14

An earthling bestowed with the name Wai. Born from Chinese parents and raised in the land of freedom. A college student studying graphic design. A follower of the angry asian man. Likes comics and cartoons. Dislikes spicy food and disorder at home.
February 15

Aviraj Bharya
is a fellow Angry Asian. He lives in Madison, Wisconsin where he works part-time as a graphic designer. You can see more of his work at
avirajbharya.com
.
February 16

Wathana Keth
is an aspiring comic book artist and fan of the Angry Asian Man blog. She is Cambodian-American, and has found that there aren't many professional Cambodian comic book artists in America. Hopefully that will change in the future, but in the meantime she's trying to perfect her skills by drawing more.
February 17

Lela Lee
is a cartoonist, actress and writer. She created Angry Little Asian Girl or "ALAG" because of her own disappointment in the lack of Asian images in popular culture and her difficult experiences growing up as an "other" in a mainly white suburban neighborhood. First appearing in a video titled "Angry Little Asian Girl, The First Day of School," ALAG has been expanded to comic strips, cartoons, books, and many types of merchandise. In 2014, Angry Little Asian Girl celebrates 20 years of existence.
February 18

Gene Luen Yang
is the award-winning cartoonist and author of
American Born Chinese
and the two-volume graphic novel project
Boxers & Saints
. His banner features The Green Turtle, the (arguably) first Asian American superhero, created by cartoonist Chu Hing in the 1940s, and the protagonist of
The Shadow Hero
, Gene's graphic novel with artist Sonny Liew available from First Second Books later this year.
February 19

Jerry Ma
is a graphic designer/illustrator best known for his work as the Art Director of
Secret Identities
and
Shattered
, The Asian American Superhero Anthology. He has also created his own art and design brand,
Epic Proportions
. Based in New York, Jerry's work has shown at the Japanese American National Museum, Museum of Chinese in America, New York Asian Film Festival, Smithsonian, Kangol Hong Kong. He's also worked on the indie films
Yes We're Open
,
Someone I Used to Know
,
Unidentified
and
Linsanity
.
February 20

Wendy Xu
is an illustrator and comics artist based in New York. She writes and draws comics on Asian American identity and Real Life Adult Consequences. She has been a panelist and workshop coordinator for events sponsored by OCA-NY, NYU Asian American Women's Alliance and Chinatown Youth Initiatives. She really likes witches and cats, which is incidentally the subject of her graphic novel in progress.
February 21

Frank T. Lin
, a.k.a. ftongl, is a freelance illustrator based in the San Francisco Bay Area. He's been featured in numerous magazines and places, including Hyphen and Giant Robot.
February 22

Mike Vo
(DJ Mister Vee) is host of Beats From The East, a Concordia University based weekly radio show that showcases urban music from Asian and Asian American artists. He is also a local concert promoter, responsible for exposing the talents of various Asian-American artists to the Montreal scene. For more information on his various projects, please check out
bftemedia.com
.
February 23

Nat Lee
is an animator/cartoonist from San Francisco, CA. His webcomic
Faking Life
enchants and delights people of all ages around the world (or it would if they read it). When not drawing, he can be found spending entirely too much time playing video games or yelling unintelligibly at the San Francisco Giants.
February 24

Martin Hsu
is an artist based in San Francisco and originally from Taiwan. He has worked professionally as a character designer for Disney and Nickelodeon on shows like
Ni Hao, Kailan
and
Fish Hooks
. Being in a foreign land for 20+ years has inspired Martin to create personal characters like Dragon Boy, a boy in search of his roots with laughter and open arms. To see more of Martin's artwork, please visit his website at
martinhsu.com
.
February 25

Bernard Chang
is an Asian-American artist/designer, best known for his work in the comic book industry and entertainment design, Some of his most popular work include WONDER WOMAN, SUPERMAN, and SUPERGIRL. He currently draws GREEN LANTERN CORPS for DC Comics. Bernard graduated from Pratt Institute in Brooklyn, NY with a bachelors in architecture and was captain of the men's basketball team.
February 26

Tak Toyoshima
is the creative director of the award-winning alternative weekly
DigBoston
. He is also the creator and illustrator of
Secret Asian Man
comics which has been syndicated monthly, weekly, and daily in papers across the country. Tak is proud to be a member of the Adjective Asian Gender family.
February 27

An Rong Xu
is a documentary photographer, film maker and sensitive artist based in New York City. Check out his work at
AnRongXu.com
.
February 28

Derek Kirk Kim
is the award-winning author of
Same Difference
,
The Eternal Smile
(with Gene Luen Yang), and
Good As Lily
(with Jesse Hamm), and a contributor to numerous anthologies. His most recent graphic novel is
Tune
from First Second.