Catch the world premiere of National Film Society's action comedy webseries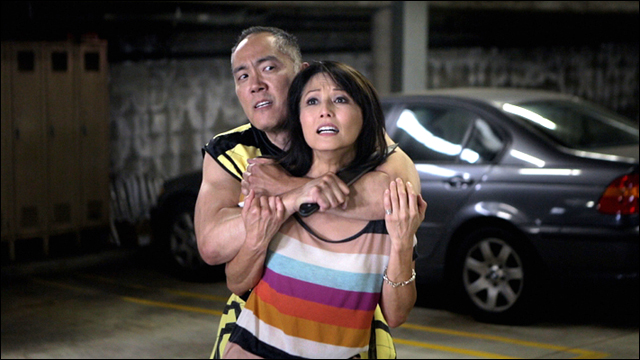 It's time. If you're in the Bay Area, you're invited to the world premiere of the action comedy web series
Awesome Asian Bad Guy
, presented as part of CAAMFest 2014. It screen Thursday, March 20 at the Sundance Kabuki Cinemas in San Francisco, and Friday, March 21 at the Oakland Museum of California.
Follow National Film Society -- our friends Patrick Epino and Stephen Dypiangco -- as they are tasked with recruiting a team of washed-up Asian action movie villains to take down a notorious crime lord. Starring Tamlyn Tomita, Yuji Okumoto, Al Leong, Randall Park, Aaron Takahashi, Dante Basco and George Cheung, it's a fun romp full of wacky gags and pop culture nostalgia.
Here are some more details:
Awesome Asian Bad Guys | CAAMFest 2014

Dates & Times

Sundance Kabuki Cinemas
March 20, 2014 9:10 pm

Awesome Asian Bad Guys

Oakland Museum of California
March 21, 2014 9:30 pm

What happened to the actors that played that one Asian villain in your favorite childhood action flicks? Well, it turns out that they teamed up with the National Film Society to avenge the wrongful death of Tamlyn Tomita's twin sister, Pamlyn, in AWESOME ASIAN BAD GUYS. Directors Patrick Epino and Stephen Dypiangco assembled the AWESOME ASIAN BAD GUYS for the very characters that they portrayed on film and what they do best — kick butt.

A screwball comedy that doesn't take itself too seriously, AWESOME ASIAN BAD GUYS is directors Patrick Epino and Stephen Dypiangco's homage to the actors who played iconic, yet paradoxically nameless Asian villains on the silver screen. This tribute has Al Leong, Yuji Okumoto and George Cheung playing themselves in an almost life-imitating-art caricaturization of their most recognizable roles.

Guests In Attendance: Patrick Epino (Co-director/Producer), Stephen Dypiangco (Co-director/Producer) and Dante Basco (Cast)

For further information about the screenings, and to purchase tickets, head over to the CAAMFest
website
. For more info about Awesome Asian Bad Guys, visit the Awesome Asian
website
.