Wednesday Fast and day of social media action, April 2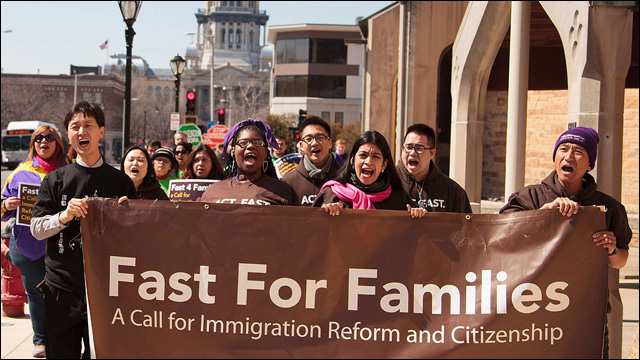 This past Tuesday, March 25, Congresswoman Judy Chu and leaders of the
Fast for Families
campaign participated in a
Google Hangout
to urge the Asian American and Pacific Islander community to take action and get involved with the immigration reform movement.
Fast for Families is a coalition of faith, labor, and civil rights leaders working with impacted communities to stand with families by calling attention to the moral crisis of family separation due to our immigration system.
Our broken immigration system.
The campaign has been actively working on numerous activities to stand with families and move immigration reform forward, including calling community members to pledge to participate in a
Wednesday Fast
, as well as a Call to Action this Wednesday, April 2.
Here are some more details:
Pledge to a Wednesday Fast:

Fasting for one meal a day or a full day on Wednesdays during the season of Lent is one piece of the movement to urge House leadership to move forward on humane immigration reform this year. It is not too late to sign on to fast! To join, please sign on here: F4F Wednesday Fast!

Call to Action on Wednesday, April 2nd:

To highlight another Wednesday fasting day and AAPI involvement, let's stand together for unified day of social media action this Wednesday, April 2nd. Join us online as we share images from the AAPI community uplifting one or more of the following:

1. Why we are fasting on Wednesday with Fast 4 Families & the AAPI community

2. Our call to action (asking House leadership to give us a vote on immigration reform)

3. AAPI immigration stories (by providing links: sample stories)

4. Stats/Facts about immigration and immigrant populations in our states

To participate, share images with us on facebook and twitter!

Please include the hashtag #ActFastPray so we can follow, retweet, and share each other's posts and tweets!

Direct your activity towards Eric Cantor (@GOPLeader) and a local representative so we can make the AAPI voice heard!

Note: We are suggesting directing tweets towards Eric Cantor because 1) as Majority Leader he has the power to put immigration reform on the floor for a vote and 2) the Fast for Families bus will be rolling into his district (as seen on the bus tour schedule).

For further information about the Fast for Families campaign, visit the
website
and take part.