Joseph is the latest recipient of a racial receipt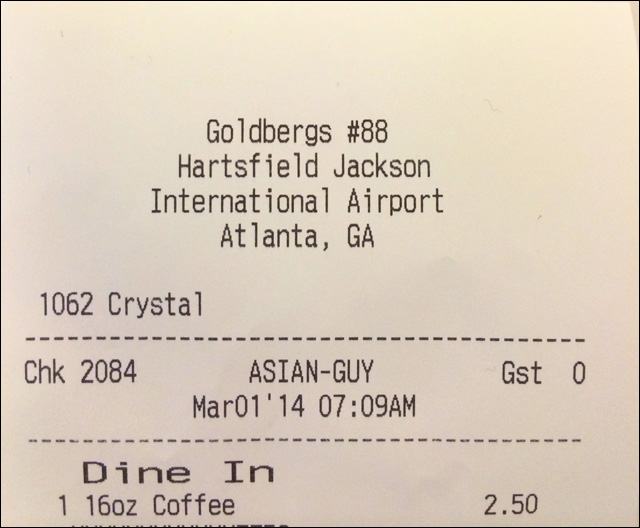 Got this passed along to me from a reader named Joseph, who became the most recent recipient of a
racial receipt
. What the heck is that? Oh, it's more common than you might realize.
You know when you go to a fast food or coffee joint like Starbucks, and they take your name to identify your order? Sometimes, your servers get lazy with the name-taking, and take it upon themselves to rename you with terms like
"Ching" and "Chong."
Or maybe they get creative, and bestow a title like
"Lady Chinky Eyes."
We've seen it happen enough that we can give it a name. The Racial Receipt.
In this case, the cashier working in the early morning hours at Goldberg's Bagel & Deli Company at Hartsfield-Jackson Atlanta International Airport couldn't be bothered with taking Joseph's name, instead going for a much simpler identifier:
"Asian Guy."
Joseph explains:
I took a red-eye from L.A. last night and arrived for a layover early this morning at Hartsfield–Jackson Atlanta International Airport. Barely functioning and wanting a cup of coffee, I walked over to Goldberg's Bagel & Deli Company. While the cashier taking orders asked the people before and after me for their names, she didn't ask for mine. I was actually in the middle of wondering to myself how they were going to distinguish my order from those of all the other people waiting around when the employee distributing the orders (by calling out customers' names) looked at me, kind of laughed, and gave me my coffee. Walking back to the gate, I wondered if maybe they didn't bother with my name because I had only ordered coffee, which is a pretty fast order to get out. Then I looked at the receipt and found the all-caps "ASIAN-GUY" written out at the top. Needless to say, it was shocking and quite disheartening to realize what had taken place.

Joseph says he considered raising the issue at the counter, but he had a flight to catch. Sure, it's maybe not as bad as
"CHINX"
or a freaking
drawing of slanted eyes
-- Joseph is, indeed, an Asian guy -- but I'm going to assume that Goldberg's doesn't label all of its orders with racial identifiers. Black Guy. White Guy. Latino Guy. (I don't know, maybe it does.) So why the exception with Joseph the Asian Guy?
Not even trying to raise hell here. Just pointing out that sometimes you can't go about your regular business and be John or Jimmy or Joseph or Junghwan. To some folks, you're just plain going to be "Asian Guy."