March 13 - July 12 at the Chinese American Museum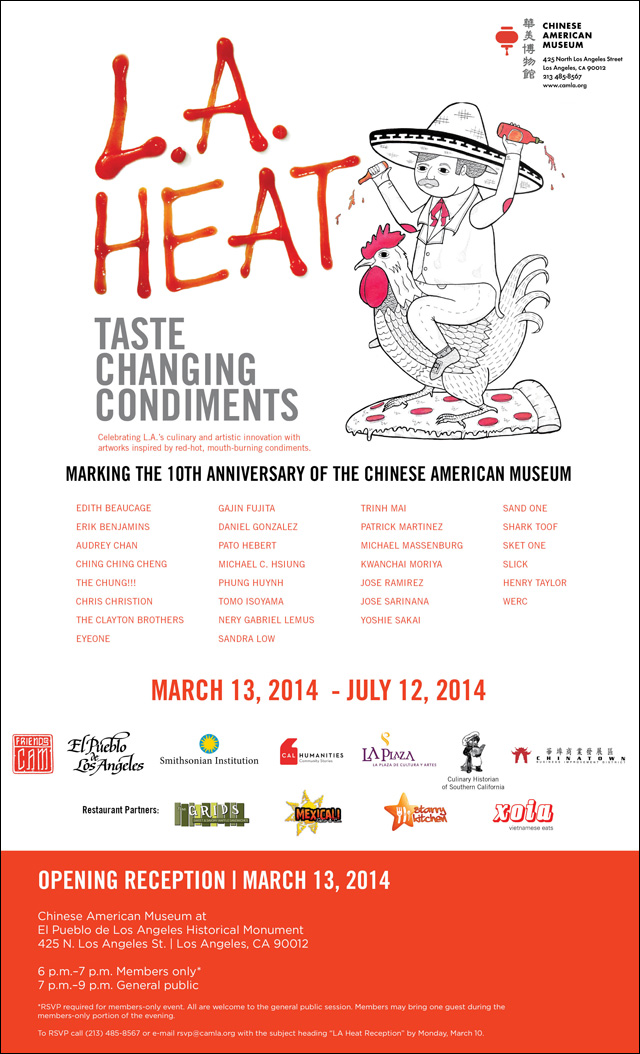 Hot sauce lovers! If you're in Southern California, you are invited to check out
L.A. Heat: Taste-Changing Condiments
, a new art exhibition inspired by two of America's leading hot sauce brands, Huy Fong Sriracha and Tapatio. It runs March 13 - July 12 at the Chinese American Museum in downtown Los Angeles.
Do you like it spicy? The exhibition is the brainchild of CAM Interim Executive Director and Curator Steven Y. Wong, who challenged local artists to create works with the hot sauce products in mind. The result is a collection of thirty imaginative pieces in a variety of mediums.
The exhibition kicks off this Thursday with an opening reception. Here are some details:
L.A. Heat: Taste Changing Condiments Exhibition Opening Reception

Chinese American Museum
425 North Los Angeles Street
Los Angeles, CA

Thursday, March 13, 2014

6 p.m.–7 p.m. Members only*
7 p.m.–9 p.m. General public

Please join us for the opening reception of L.A. Heat: Taste Changing Condiments Thursday March 13th from 7-9pm at the Chinese American Museum. L.A. Heat brings together 30 L.A. based artists to explore the city's culinary and artistic innovation with artworks inspired by red-hot mouth-burning condiments.

Participating artists include:

Edith Beaucage, Erik Benjamins, Audrey Chan, Ching Ching Cheng, The Chung!!, Chris Christion, Clayton Brothers, Eye One, Gajin Fujita, Daniel Gonzalez, Pato Hebert, Michael C. Hsiung, Phung Huynh, Tomo Isoyama, Nery Gabriel Lemus, Sandra Low, Trinh Mai, Patrick Martinez, Michael Massenburg, Kwanchai Moriya, Jose Ramirez, Yoshie Sakai, Jose Sarinana, Sand One, Shark Toof, Sket One, Slick, Henry Taylor, and Werc

An art show about hot sauce? I am so there. I only have one question: does the exhibition include free samples? Because you gotta. For further details about Thursday's opening reception, go to the
Facebook event
. For more information about L.A. Heat, head over to the
Chinese American Museum website
.