Prosecutors accused Matt and Grace Huang of starving their adopted daughter to harvest her organs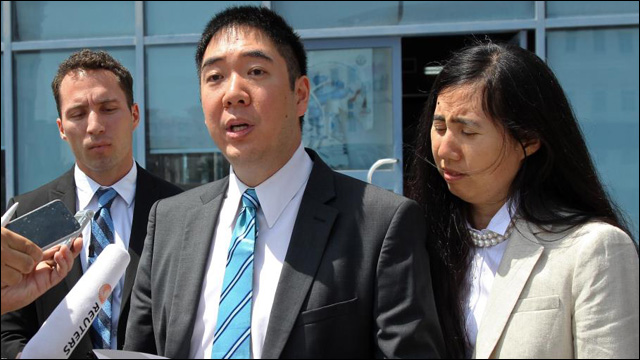 Some awful developments out of Qatar, where we've been following the story of an American couple on trial, accused of killing their child.
Matthew and Grace Huang
have been found guilty and sentenced to three years in prison for the death of their 8-year-old adopted daughter.
Qatari court finds American couple guilty in death of adopted daughter
The judge did not specify the exact charge for which they were convicted. But prosecutors accused the Huangs of fatally starving their daughter Gloria, who was adopted from Ghana, so that they could harvest her organs. But they say she died from complications related to an eating disorder.
The Huangs and their three young children -- Gloria and two sons, all adopted -- moved to Qatar in 2012. By Qatari standards, they're an unconventional family, which apparently fueled investigators' suspicions. Prosecutors were apparently unable to grasp why an Asian American couple could possibly want African children -- except for nefarious purposes.
The case began in January 2013, when the Huangs were arrested after rushing their unconscious daughter to a hospital, where she was pronounced dead. The couple's two boys, now 8 and 12, were temporarily placed in an orphanage but a judge later gave Mrs. Huang's mother, who lives in Washington State, custody.

The couple's trial was regarded by some as a test of the countryxs commitment to judicial process. It has also been followed closely by the American Embassy because the United States considers Qatar an important ally. America's biggest military base in the Middle East is in Qatar, and dozens of American corporations and organizations operate here.

Prosecutors initially based part of their case on the suggestion that the Huangs may have been child traffickers, questioning in court how people of Asian descent could possibly want African children.

In his statement, Mr. Huang said: "The prosecutor accused us of trafficking our legally adopted children with the intent of selling their organs. That is how ridiculous this is."

The Huangs, who have two weeks to appeal the verdict, say they are the victims of a gross miscarriage of justice. They maintain that the charges are ridiculous, and the verdict is now "nothing more than an effort to save face." They are now calling on the United States and President Obama to intervene on their behalf.
More here:
American Couple in Qatar Sentenced in Daughter's Death