Enter to win Wong Kar-wai's martial arts drama The Grandmaster on DVD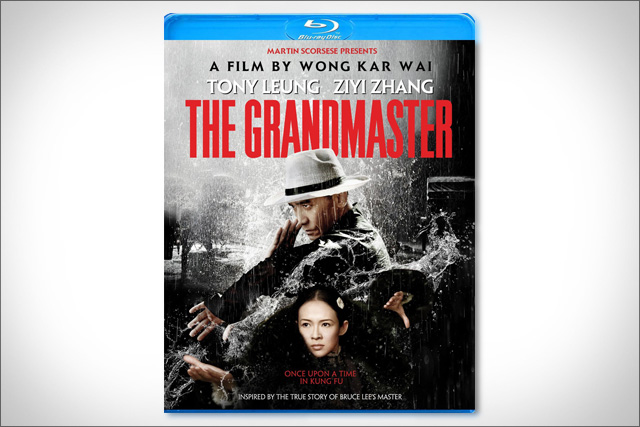 Check it. If you like your action flicks with a touch of class, then you must see Tony Leung and Zhang Ziyi in
The Grandmaster
, available this week on Blu-ray and DVD, as well as On Demand and Digital Download.
Presented by Martin Scorsese, the latest film from acclaimed auteur Wong Kar-wai is a visually-stunning period martial arts drama inspired by the life of legendary Wing Chun master Ip Man -- teacher to Bruce Lee -- who survived the turmoil of 1930s China to change the world of martial arts forever.
The Grandmaster
is an art house kung fu flick, equal parts gorgeous and kickass. Tony Leung is awesome as usual, but it's Zhang Ziyi who really steals the movie. She embodies the spirit of the movie, both stunning and fierce -- the
real
grandmaster we follow through Wong's saga of love, honor and vengeance.
Want to win a copy of
The Grandmaster
? I'm giving away some DVDs. Scroll down to the bottom for details on how to enter. But first, here's the
trailer
for
The Grandmaster
:
Bonus features on
The Grandmaster
Blu-ray and DVD include:
- THE GRANDMASTER: From Ip Man to Bruce Lee
- A Conversation with Shannon Lee (Daughter of Bruce Lee)
- THE GRANDMASTER: According to RZA
- Behind the Scenes
Here's a
clip
of Shannon Lee, daughter of Bruce, talking about the martial arts in
The Grandmaster
:
And here's a
clip
of Tony Leung's training for the role of Ip Man:
Boards don't hit back.
So... anybody want a free copy of
The Grandmaster
? Of course you do. I'm giving away two DVDs to lucky readers. Here's how to enter for your chance to win:
Step 1:
Follow
@angryasianman
on Twitter.
Step 2:
Tweet this message:
I want to win #TheGrandmaster on DVD from @angryasianman! http://bit.ly/aam-grandmasterdvd
Step 3:
I'll randomly pick two lucky winners who will each get a DVD copy of
The Grandmaster
.
Please, only one entry per person/Twitter account. Cheaters will be publicly shamed. The giveaway ends on Monday, March 10, 2014 at 11:59am PST. The winner will receive a Direct Message with further information. This giveaway is open to U.S. mailing addresses only. Sorry, rest of the world.
Good luck! You gotta be in it to win it. For those who are not feeling super lucky,
The Grandmaster
is out this week, and available from all the usual retailers like
Amazon
and
iTunes
.