Will oversee development of scripted comedy and drama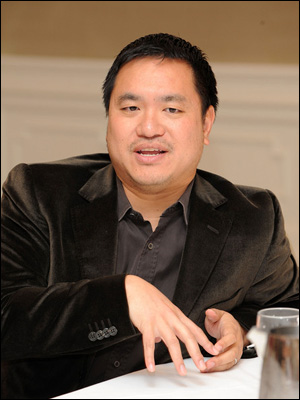 This is some insider-y TV industry news, but I just wanted to show some love and hearty congratulations to my pal Quan Phung, who has joined independent studio Slingshot Global Media as president of scripted television.
Quan Phung To Head Scripted Television For David Ellender's New Production Company
Quan has been president of Bluegrass Television for the past five years, recently serving as executive producer for the NBC comedy
Whitney
.
As Slingshot's president of scripted television, he'll oversee development and production of comedy, drama series and limited-run event series for the U.S. market as well as "globally-appealing" straight-to-series projects through co-financing, co-production, and pre-sale deals.
The new global independent television studio was formed in February in partnership with TPG Growth with the goal of developing and producing drama and comedy television programming for the multi-platform U.S. television market.

Coming off a five-plus year tenure at Bluegrass, Phung will oversee the development of content across all genres and will work closely with talent to nurture and develop commercial returning series and limited-run event programming for traditional broadcast and cable networks, OTT content providers, and premium pay services.

Awesome news for a really good guy. If you look at the Deadline.com article, the comment thread is filled with positive comments from people who have worked with Quan. If you read Deadline regularly, you know how rare this is. It stands as a testament to his integrity and work ethic. Congratulations on the new gig, Quan.
More here:
Slingshot Global Media Names Quan Phung as President of Scripted TV