Animated feature based on the popular comic book series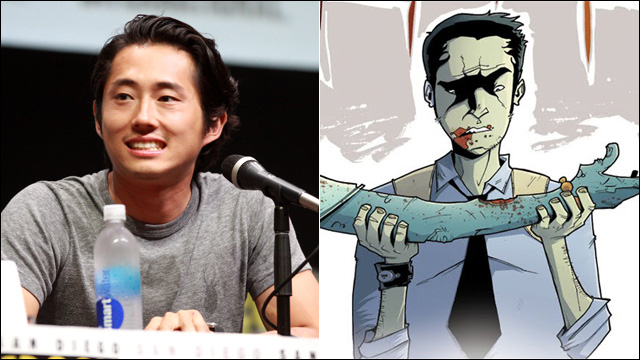 Boom. Some hella cool news for ya fanboys... We've been following the rocky attempts to adapt the popular comic book
Chew
for television, but it looks like the project is going in a different direction -- an animated feature. And it will star the voices of
The Walking Dead's
Steven Yeun and
The Guild's
Felicia Day.
'Walking Dead' Actor Steven Yeun, Felicia Day Voicing Comic Adaptation 'Chew' (Exclusive)
Chew
follows the adventures of Tony Chu, a "cibopath" detective who gets psychic impressions from whatever he eats. Which means if he's investigating a murder, a bite of the victim's corpse -- yes, ew -- will do the fast detective work of figuring out how he died and who killed him. The award-winning series, co-created by John Layman and Rob Guillory, and published by Image Comics, is craazy weird fun.
Steven Yeun will provide the voice of Detective Tony Chu, while Felicia Day will voice his love interest, food critic Amelia Mintz. Pretty darn perfect casting, I think.
Jeff Krelitz, who helmed the animated Torchwood: Web of Lies and Peter Panzerfaust, is directing the project, which has a script by Chew co-creator John Layman.

Krelitz is producing with David Boxenbaum via Heavy Metal, the duo's multimedia company. It will be the company's first animated project.

Chew centers on a detective who is a "cibopath," a person who gets psychic impressions from whatever he eats, and is set in a world where bird meats are illegal after bird flu killed millions of Americans.

They were originally trying to get
Chew
adapted as a live action TV series. Showtime bought the
pilot script
, but those plans apparently
fell apart
. There were clashes over some of the narrative elements, as well as
racebending
, among other things. Layman has dropped hints that the
Chew
adaptation could take other forms, like animation, so I guess it's happening. The producers are aiming for a digital broadcast and home entertainment release. Count me in.
More here:
'Walking Dead' Star Takes A Bite Out Of 'Chew'