Patrick Farves disrupted a school assembly with an invitation for beauty queen Nina Davuluri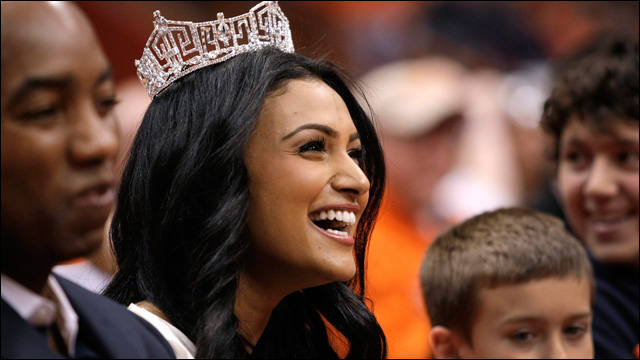 It was cute. Maybe a little obnoxious. This guy probably had to know, realistically, he wasn't going to get a "yes" when he asked Miss America 2014 Nina Davuluri to the prom at a school assembly. But hey, YOLO, or whatever the kids are saying these days. Alas, no date... and the stunt got him suspended.
High Schooler Suspended for Inviting Miss America To Prom
He knew he'd get in trouble. Administrators warned 18-year-old Patrick Farves not to make a scene when Davuluri visited Central York High School in Pennsylvania last week. But that didn't stop him from inviting the beauty queen to his senior prom during the Q&A session. It earned him three days suspension.
But while Davuluri's travel schedule will not allow her to attend Central York High's prom, Miss America is kind, and appealed to school officials to rethink the suspension. She issued the following statement on the official Miss America
Facebook page
:
"On Thursday, a student invited me to prom and gave me a flower while I was giving a presentation in York, Pennsylvania. I was flattered by the gesture although I am unfortunately unable to attend due to my travel schedule. I later learned of the disciplinary action taken and reached out to the school in hopes that they will reconsider their decision."

"Meeting and interacting with students across the country has been an important and rewarding part of my year as Miss America. I always encourage students to follow their dreams through education, and I'm inspired daily by the enthusiasm and aspirations of the bright young adults I have the pleasure of meeting through my travels."

While the stunt got him suspended, the school says that Farves is not barred from attending the prom. Unfortunately, whoever eventually goes as his date will know that she is a distant second runner-up.
More here:
Miss America: Don't suspend teen over prom invite