Sixth grader golfer is the youngest player ever to qualify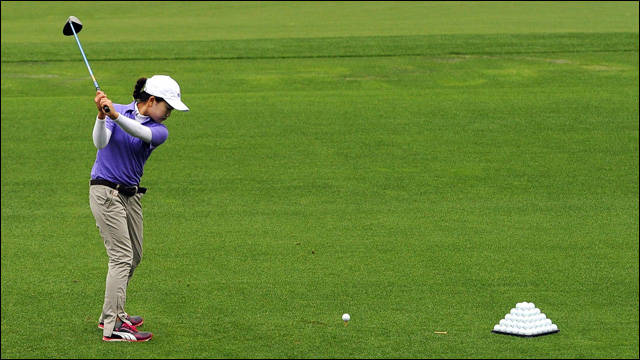 Whoa. Meet Lucy Li. This week, the 11-year-old golfer from Redwood Shores, California made history by becoming the youngest player ever to qualify for the U.S. Women's Open. Eleven!
Lucy Li, 11, qualifies for U.S. Open
Eleven years old, and freaking awesome. Li, a sixth grader who began playing at the age of seven, qualified for 2014 U.S. Women's Open on Monday, shooting rounds of 74 and 68 on the par-72 Old Course at Half Moon Bay, and beating second-place qualifier Kathleen Scavo by seven strokes.
The record for youngest was previously held by Lexi Thompson, who qualified for the U.S. Women's Open -- at 12 years, 4 months, 18 days old -- in 2007. Li doesn't turn 12 until October 1.
Despite her age (and size) Lucy has apparently been making a habit of breaking records:
McLean acknowledged he was skeptical when Li's parents called and asked him to work with her. He has since come to admire her "amazing focus," which helps her compete against bigger, more experienced players. Li is barely 5 feet tall.

Monday's outcome still left McLean "very surprised, bordering on shocked," because of the magnitude of the Open, the most prestigious tournament in the women's game.

"Lucy has the perfect personality for golf," McLean said. "She can keep it together better than any kid I've ever seen."

Breaking age barriers is nothing new for Li. In June 2013, she became the youngest player to reach match play in the Women's Amateur Public Links. Later that summer, she became the youngest player to qualify for the USGA Women's Amateur. Then, last month, she won her age division in the Drive, Chip and Putt Championship, a national skills competition.

The U.S. Women's Open will be played June 19-22 at Pinehurst. Congratulations, Lucy.
More here:
11-year-old golf prodigy Lucy Li seizes slice of history