Half-hour, single-camera comedy is modern-day re-imagining of 'My Fair Lady'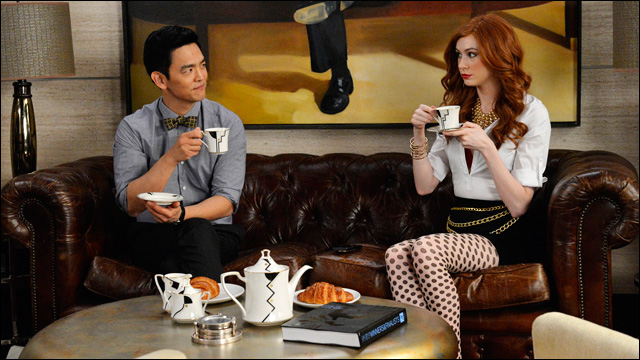 Fans of John Cho will be happy to hear that he'll back on the tube soon in yet another show next season... This fall, you'll see the
Harold & Kumar
and
Star Trek
actor starring opposite
Doctor Who's
Karen Gillam in the comedy series
Selfie
, picked up for ABC's 2014-15 primetime schedule.
The half-hour, single-camera comedy, from
Suburgatory
creator Emily Kapnek, is a modern-day re-imagining of
My Fair Lady
, with Cho as the Henry Higgins character. He plays Henry, a self-assured marketing expert who decides to "re-market" his coworker Eliza Dooley, a social media star with a bad reputation.
Here's the
trailer
:
And here's a clip:



Here's the official description from ABC:


Can a self-absorbed social media diva learn how to live life offline?

"Instafamous" Eliza Dooley has 263,000 followers who hang on to her every post, tweet and selfie. But one lonely day she has a revelation: being friended is not the same as having actual friends. She asks marketing guru Henry to 'rebrand' her self-obsessed reputation and teach her how to connect with people in the real world. Loosely based on "My Fair Lady", "Selfie" explores the modern struggles of Eliza and Henry, as he tries to teach her how to live life offline—whether she 'likes' it or not.

Coming to Tuesdays at 8|7c this Fall on ABC!

I'm not going to lie -- this does not look like my normal cup of tea. And from what I can tell, initial reactions to the show (not to mention its terrible title) have been less than enthusiastic. But you can't deny that John Cho is charming as hell, and one hopes this show can grow to be better than its pilot episode seems to indicate.
Always cool to see John Cho doing his thing. Fingers crossed.