"You're not a f*cking American! I'll put you in a UPS box and send you back to wherever the f*ck you came from!"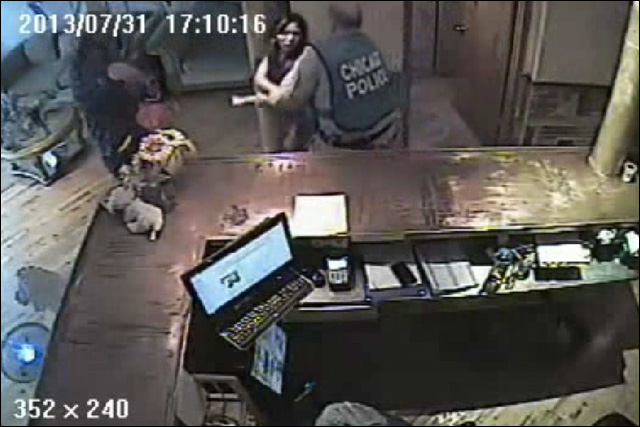 Damn. Recently released surveillance video footage, recorded during the raid of a Chicago massage parlor last year, shows a police officer slapping a handcuffed woman in the head, while another officer threatens to hit her with a Taser "10 fucking times." The footage is now at the center of a federal lawsuit.
Lawyer: Video caught cop beating handcuffed woman
The footage shows a shrieking Jianqing Klyzek, manager of Copper Tan and Spa, pushed face down, dragged onto the floor, handcuffed, and struck in the head by an officer, identified as Frank Messina. Another officer, Gerald DiPasquale, is heard screaming racially-charged at her: "You're not a fucking American! I'll put you in a UPS box and send you back to wherever the fuck you came from!"
Here's part of the footage:
Klyzek filed a lawsuit last week accusing the Chicago Police Department and ten officers of a hate crime, excessive force and attempting to a cover-up by framing her.
According to a police report, the raid was prompted on July 31, when an undercover vice squad officer was allegedly offered a sex act by a masseuse in a back room. Klyzek was initially charged with aggravated battery, as well as ordinance violations, but the charges were thrown out after prosecutors saw the video.
The raid took place around 7 p.m. last July 31 when officers entered the Copper Tan and Spa in the 1000 block of North Milwaukee Avenue after an undercover officer working as part of a vice squad was allegedly offered sex for money. As they rushed past the reception desk, Klyzek said she screamed out as one of the officers grabbed her arm because she "thought she was being robbed or attacked," the suit said.

The footage showed Klyzek being pulled toward a chair in the lobby and pushed down face. Klyzek was dragged onto the floor and handcuffed before she was struck in the head by an officer, identified in the suit as Frank Messina. According to the suit, Officer Gerald DiPasquale then began to scream at her, telling her she was not American and here on "borrowed time."

"Mind your f---ing business before I shut this whole f---ing place down," the officer alleged to be DiPasquale yelled.

At one point, it appears that officers noticed the security camera, and can be seen on the video searching for the surveillance tape, but couldn't find the footage because it was recorded off-site. Gotcha, suckas.
More here:
Lawsuit: Chicago cops physically, verbally abuse woman on video