Latest imitator getting in on the hot sauce hustle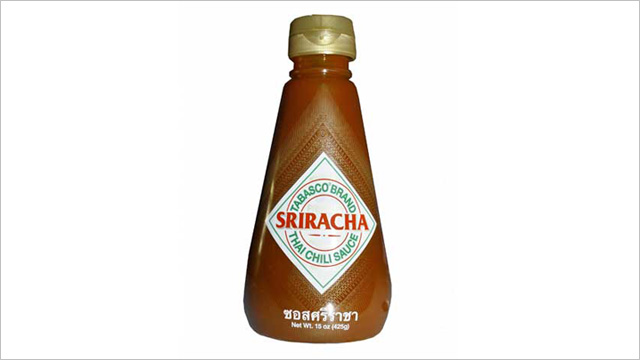 We all know that there is one true Sriracha. Huy Fong Foods has had a lock on the game for years, making that legit spicy, sweet goodness we know and love. That hasn't stopped imitators from trying to get in on the hot sauce hustle.
Trader Joe's
introduced its own version last year, to mixed reviews. Now the company behind the ubiquitous Tabasco brand has unveiled its own take on Sriracha Thai chili sauce.
Tabasco Company Introduces Its Own Sriracha
The Louisiana-based McIlhenny Co., makers of Tabasco sauce, recently introduced its own version of Sriracha last week, quietly making 15-ounce bottles of TABASCO® Premium Sriracha Sauce available for sale from the company's
official online store
. The sauce is described as "a masterful blend of spicy, sweet and savory flavors, that is authentic to South East Asian cuisine."
Whaaaaaat.
It was only a matter of time. As the legend of Sriracha grows across the land, others were going to want a share of that sauce money. While Huy Fong CEO David Tran has a legally protected his brand, with its distinctive green-tipped rooster-emblazoned bottle, he couldn't trademark the "Sriracha" name because it's actually derived from a city in Thailand. And so we now have Tabasco Sriracha.
Meanwhile, the embattled Huy Fong Foods has had to deal with it ongoing saga with the city of Irwindale. Last month, after dealing with complaints from neighbors about alleged strong odor emanating from the Sriracha plant, the Irwindale City Council officially
declared the factory a public nuisance
.
Tabasco is actually the number-one selling hot sauce on the America market.
Could McIlhenny's spicy new product pose a threat to Huy Fong's Sriracha sauce superiority? No way. Like I said, we all know there is one true Sriracha. And I will stay loyal to the Rooster!
More here:
Tabasco Launches Its Own Sriracha -- But Seems Determined to Keep It a Secret