Apologizes for agency's "systemic, totally unacceptable lack of integrity."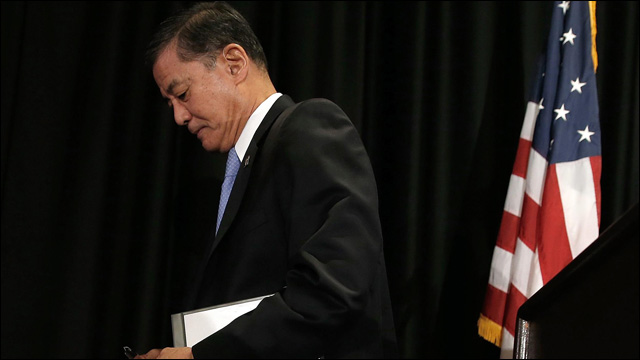 Amid mounting criticism and calls for his ousting, Veterans Affairs Secretary Eric K. Shinseki has resigned, apologizing to veterans and lawmakers for the agency's mismanagement of the nation's veterans hospitals.
Shinseki resigns amid VA scandal over veterans' health care
Calls for Shinseki's resignation had intensified in the wake of an independent review by the inspector general outlining widespread misconduct by VA officials throughout the medical system. With rapidly dwindling support from across the political spectrum, including the White House, Shinseki's resignation seemed inevitable.
In a speech Friday morning to a veterans group, Shinseki apologized and accepted responsibility for his agency's "systemic, totally unacceptable lack of integrity." He then met with President Obama, who said he accepted the retired Army general's resignation "with regret."
President Obama announced that he accepted Shinseki's resignation after agreeing with his embattled VA secretary that he had become a "distraction"as the department struggles to deal with a huge increase of veterans in need of care after more than a decade of war overseas.

Obama made the announcement shortly after Shinseki apologized publicly Friday for what he called an "indefensible" lack of integrity among some senior leaders of the VA health-care system and announced several remedial steps, including a process to remove top officials at the troubled VA medical center in Phoenix.

Speaking after a meeting with Shinseki at the White House, Obama said Shinseki had offered him his resignation.

"With considerable regret, I accepted,"Obama said. "We don't have time for distractions,"he added. "We need to fix the problem."

At this point, it was pretty much the only way this could have gone down. Shinseki's resignation will satiate some critics, but he is falling on his sword for a scandal that runs far deeper than one senior leader. The pressing issue, the denial of adequate health care for veterans, doesn't go away.
More here:
Shinseki resigns, but will that improve things at VA hospitals?