Kickoff event planned for October 15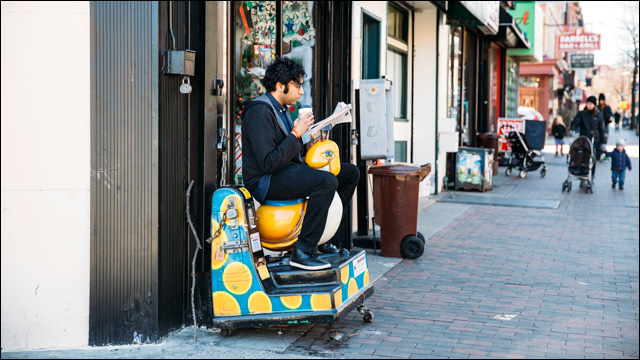 This is some pretty awesome news. The Asian/Pacific/American Institute at New York University recently announced comedian Hari Kondabolu as its
2014-15 Artist-in-Residence
. Hari, who is based in Brooklyn, has had one hell of a year, between appearances on NPR's
Fresh Air
,
Conan
,
Late Show with David Letterman
, the release of his debut album
Waiting for 2042
, and now hooking up with NYU.
But what does it actually mean? Each year, New York University hosts an artist to hold residency with its Asian/Pacific/American Institute. Artists-in-Residence are invited to bring their notoriety, artistic work, and history of involvement with the APA community to NYU. The Artist-in-Residence uses his or her time at A/P/A to create important new work, artistic retrospectives, forums, or conferences.
Hari is A/P/A Institute's first Comedian-in-Residence. Here's his statement:
I am very excited to be the Asian/Pacific/American Institute at NYU's Artist-in-Residence for the 2014-2015 academic year. I truly believe that this opportunity (and the VAST financial and human resources that this university offers) will further my work as a stand-up comedian and writer.

During my years performing in New York City, I have found myself constantly looking for performance opportunities to experiment with new ideas and create longer, fuller pieces. While there are, of course, many open mic nights across the city, they have time limits and do not always have people in the audience. Occasionally, I may slip in a few new jokes during longer headlining sets around the country, but this is not always the most conducive way to present material in-progress and safely fail. In addition, some of the things I want to work on are more long-form (like stories) and are not always best told in a stand-up context. As a result, I often end up flying back to Seattle (where I began my stand-up career) to develop new work in a theater I rent out every few months. This is obviously not ideal since I live in New York City, my hometown.

This residency at the A/P/A Institute at NYU will give me just the space and time I need to publicly workshop ideas I've had for years, but have not had the opportunity to explore. These ideas include material for my stand-up act; essays and stories for publications, radio, or live performances; live and video sketches; and short films.

There are obviously many reasons to look forward to this year, but I also cannot help but look back.

In the spring of 2000, I was rejected admission to New York University after failing to submit my application by the January 15 deadline. I had forgotten it was due because I was preparing my first ever stand-up performance on January 14 as a student at Townsend Harris High School. It was my fault and I have thought about what life would have been like if I stayed in New York City instead of going to Bowdoin College in Brunswick, Maine. (A fine liberal arts college that I had the privilege to attend!)

All this being said, I'm excited that comedy also finally brought me to NYU after keeping me out many years earlier. Sometimes life writes the jokes for you.

They have a kickoff event planned for October 15. A/P/A Institute will welcome Hari and a special surprise guest for an evening of standup and works-in-progress. For further information, visit the
A/P/A Institute website
.
For more on Hari Kondabolu, visit his official
website
and follow him on
Twitter
.