Kentucky political operative under fire for racist tweets targeting Mitch McConnell's wife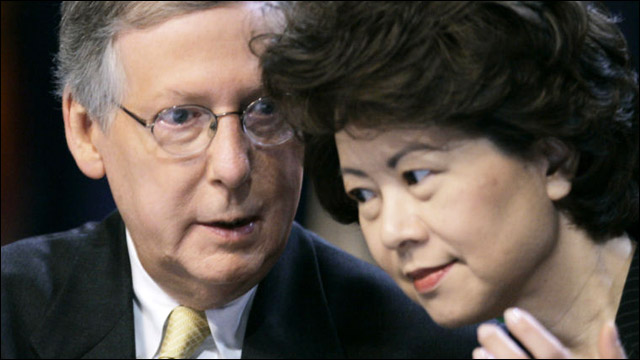 A prominent Democratic operative is under fire for a series of tweets targeting the ethnicity of former Labor Secretary Elaine Chao, the wife of Senate Minority Leader Mitch McConnell of Kentucky.
After 'she is Asian' tweets about McConnell's wife, Dems rebuke operative
Over the weekend, Senator McConnell spoke to supporters at the annual Fancy Farm event in Kentucky, praising his wife's accomplishments and noting, "the biggest asset I have by far is the only Kentucky woman who served in a president's cabinet, my wife, Elaine Chao."
Say what you will about Chao's actual accomplishments. But Kathy Groob, founder of the PAC Elect Women, took McConnell's remarks as an opportunity to mock her Chinese heritage. She kicked things off by questioning Chao's Kentucky-ness, because, you know, "She is Asian."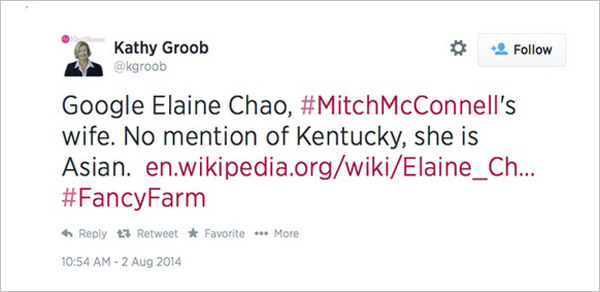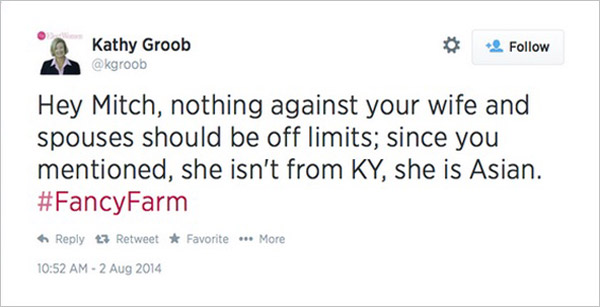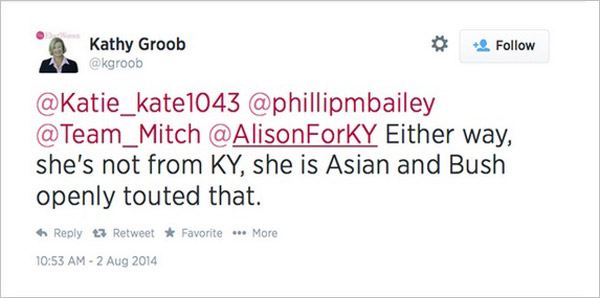 "Nothing against your wife"? I don't know, it seems pretty clear that Groob has something against Chao -- the implication being that someone who is Asian cannot possibly represent or be from Kentucky. There are plenty of reasons to question Elaine Chao's connections to the state. "She is Asian" is not one of them.
You sure as hell won't see me going to bat for Mitch McConnell, and I'd be the last one to defend Elaine Chao's track record on pretty much anything, but this shit is low.
Groob has since apologized for her "poor choice of words," deleted the offending tweets and even deactivated her Twitter account. The Kentucky Democratic Party was also quick to denounce her comments, calling them "abhorrent" and having "no place in Kentucky politics." So why does it
keep happening
?
More here:
NKY Dem's tweet draws fire