34-year-old victim was assaulted and called "Osama bin Laden"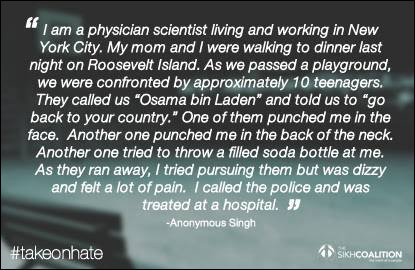 News of yet another hate crime out of New York City last week, where a Sikh man on Roosevelt Island was harassed and attacked by a group of teens who assaulted him and called him "Osama bin Laden."
Teens attack Sikh man, call him 'Osama Bin Laden' in Roosevelt Island hate crime
The 34-year-old victim, who wishes to remain anonymous, was with his mother walking to dinner when they were confronted by a group of approximately ten teenagers who called them "Osama bin Laden" and told them to "go back to your country.The man was surrounded and punched in the face and in the back of the neck.
Here is a statement from the victim:
"I am a physician scientist living and working in New York City. My mom and I were walking to dinner last night on Roosevelt Island. Both of us wear turbans and maintain uncut hair in accordance with our Sikh religious beliefs. As we passed a playground around 8:15pm, we were confronted by approximately 10 teenagers. They called us "Osama bin Laden" and told us to "go back to your country." They called my mother a "bitch with facial hair." I told them to stop, but they surrounded me. One of them punched me in the face. Another one punched me in the back of the neck. Another one tried to throw a filled soda bottle at me. As they ran away, I tried pursuing them but was dizzy and felt a lot of pain. I called the police and was treated at a hospital.

I want the New York Police Department to investigate this attack as a hate crime and arrest the people who attacked me before they hurt someone else. I want witnesses to come forward and contact the police immediately. My mom is visiting me from India. She thought that Americans respect religious freedom and that the police and the government here do everything in their power to prevent violence and arrest criminals. I don't want her to lose faith that justice will be done."

This attack occurred just days after another Sikh American, Sandeep Singh, was
run over and dragged by a pickup truck
on a public street in Queens. The Sikh Coalition is calling on the NYPD to investigate both attacks as hate crimes and urges witnesses to come forward.
Anyone with information is urged to call Crime Stoppers at 1-800-577-TIPS. The attack occurred at approximately 8:15pm on Thursday, August 7 near a playground on the Queens side of Roosevelt Island. The attackers consisted of approximately 10 teenagers. Of these, one was a white male on a small bicycle who initiated the hate slurs; the rest were black; and three were female.
More here:
Another NYC Sikh Injured in Hate Attack 2nd Attack in 2 Weeks; Sikh Coalition Urges Witnesses to Step Forward