Martial arts drama stars Michelle Yeoh and Donnie Yen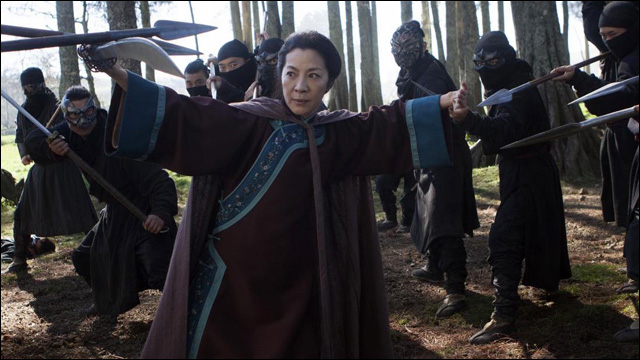 Between original content like
House of Cards
and
Orange is the New Black
, Netflix has been making some big moves, and its latest distribution deal could be a gamechanger. The pay service has struck a deal with The Weinstein Company to release its first major feature film: the sequel to
Crouching Tiger, Hidden Dragon
.
Netflix Sets 'Crouching Tiger 2' As 1st Feature; Hollywood's Nightmare?
According to Deadline,
Crouching Tiger, Hidden Dragon: The Green Destiny
, described as "sort of a sequel" to Ang Lee's critically-acclaimed 2000 martial arts epic, will premiere exclusively on Netflix's subscriber-based video streaming service. The film will also simultaneously open IMAX theaters on August 28, 2015.
The Green Destiny
, directed by Yuen Wo-Ping, stars Michelle Yeoh and Donnie, is based on the fifth book in the
Crane-Iron Petalogy
by Wang Du Lu. (
Crouching Tiger
was based on the four book in the series.) Yeoh is reprising her role as Yu Shu-Lien. Ang Lee has no involvement in the project.
Yuen Wo-Ping is directing a script by John Fusco, and Michelle Yeoh and Donnie Yen star. Lee is not involved in this, and the connective tissue is the source material based on the Crane-Iron Pentalogy by Wang Du Lu. Crouching Tiger was the fourth book in the series, and this film is based on the fifth installment, Silver Vase, Iron Knight. Both are from Wu Sia, the centuries-old genre of Chinese fiction that this series is part of. There is plenty of high-wire sword fighting along with the themes of lost love, young love and redemption. Yeoh reprises her role as Yu Shu-Lien, and Donnie Yen plays Silent Wolf. The film is shooting in New Zealand. Yuen is a legendary filmmaker and fight choreographer, and the production team is composed of all seasoned feature players. Peter Berg and Sarah Aubrey are producing with Weinstein and The Imitation Game helmer Morten Tyldum is exec producing with Ralph Winter, Anthony Wong and Bey Logan.

While I was a big fan of Ang Lee's original film, and I like and admire most of the talent involved with this project, I'm wary of screenwriter John Fusco, who is responsible for the godawful
The Forbidden Kingdom
and a host of other forgettable films. And the fact this whole movie is going to be entirely in English? Awkward. Something about this doesn't feel quite right.
That said, I'll likely be logging on to Netflix on August 28.