John Lee and Donna Demitro are accused of viciously attacking a 90-year-old couple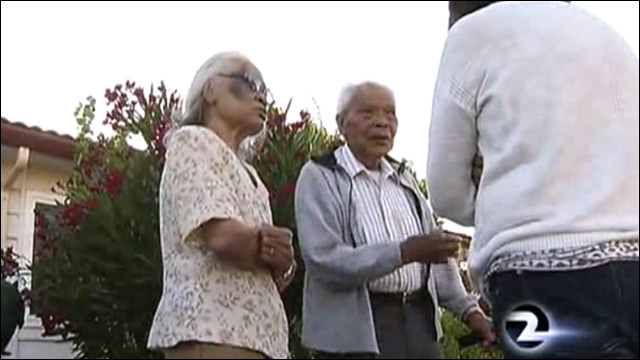 Following up on this heinous crime out of the Bay Area... In Oakland, two suspects are in custody in connection with the
brutal beating and home invasion robbery
of an elderly El Cerrito couple last month.
Couple held in attack on elderly El Cerrito couple
30-year-old John Lee and his girlfriend, 24-year-old Donna Demitro were arrested Tuesday by the U.S. Marshals Service Task Force. They are accused of talking their way into the home of Jaime and Paz Nagal -- both 90 -- viciously attacking them, tying them up, and robbing their belongings.
The victims first encountered Lee and Demitro the day before the assault, talking their way into the Nagal's home with a conversation about their flowers. After the suspects left, the couple realized a wallet, cash and jewelry were missing from a bedroom. When the suspects returned the following day, things turned violent:
The suspects showed up with a dolly and were again invited into the home after offering the dolly to the couple. The female suspect attacked the wife in the kitchen after requesting warm water. She was beaten and stabbed in the arm with a sharp instrument and bound with light rope, police said.

Meanwhile, the male suspect beat and bound the husband in a back bedroom.

The suspects made off with a safe from the home, using the dolly they brought to carry it out.

When the female suspect caught the wife trying to call 911, she beat her again, police said.

While they suffered serious injuries, they survived the attack.

As I asked before:
who the fuck does this?
Lee and Demitro were both charged with robbery, assault with a deadly weapon, elder abuse, burglary, battery causing serious bodily injury, false imprisonment, conspiracy and an enhancement for causing great bodily injury to a person over 70 years old.
More here:
Suspects in brutal beating and robbery of elderly couple in El Cerrito home arrested in Oakland