"Do you understand English darling?"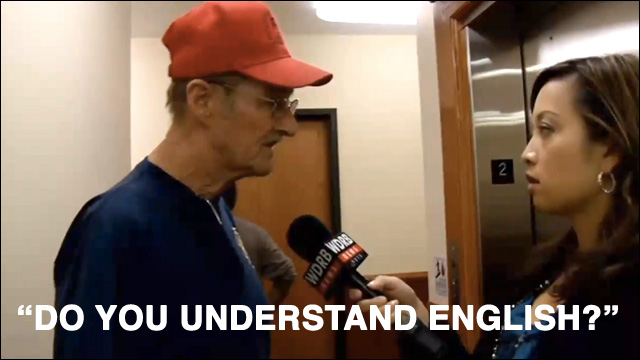 In Kentucky, a fire chief is (ahem) under fire for making racist remarks, including using the N-word to refer to a black family and asking an Asian American news reporter, "Do you understand English?"
Kentucky Fire Chief Uses N-Word, Insults Asian-American Reporter
A Bullitt County Sheriff deputy's body camera recorded Fire Chief Julius Hatfield making the racist remark back in September at the scene of a traffic accident. A white driver, Loren Dicken was offered assistance, while Chege Mwangi and his family, who are black, were not given any help by the chief or his department.
"We ain't taking no n-----s here," Hatfield says with a laugh.
That shit should be enough to get this guy fired. But there's more. WDRB reporter Valerie Chinn, who is Asian American, recently attended an opening meeting to ask the chief questions about financial mismanagement and empty firehouses within the Southeast Bullitt Fire Department.
That's when her English comprehension was questioned.
"Why are there so many firehouses that are empty?" WDRB's Valerie Chinn asked Hatfield at the meeting.

"Do you understand English darling?" Hatfield replied. "Do you understand English?"

Hatfield tried to have Chinn and her photographer removed from the public meeting.

"Turn that camera off," Hatfield ordered. "I've asked you that in a nice way. Buddy, call the cops and get them here."

"I asked you once tonight if you understand English," he added. "I'm speaking English."

Chinn says she followed up with Hatfield on the phone -- he didn't want to be on camera -- and says he doesn't remember the remarks he made about Mwangi, but sometimes there is "a slip of the tongue." He also apologized to Chinn for the way he treated her. Great.
Now, shouldn't Hatfield be out of a job?
More here:
Newly obtained video of Southeast Bullitt Fire Department chief raises questions of racism