Preview episodes to air on Wednesday, February 4 before its official Tuesday time slot.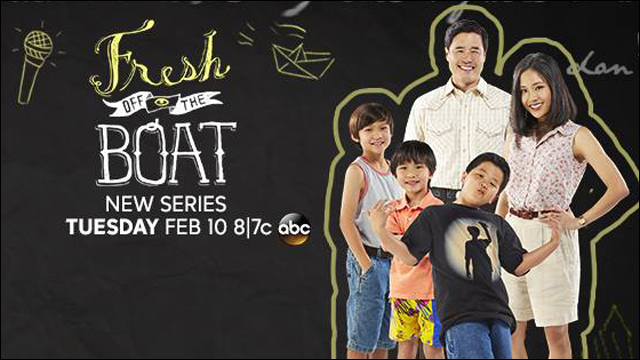 For those who have been eagerly anticipating the premiere of
Fresh Off The Boat
, we now have an air date! ABC will officially premiere the new comedy series on Tuesday, February 10 at 8:00pm, but you'll get a double-dose preview on Wednesday, February 4 at 8:30 and 9:31pm. Mark your calendars.
ABC Slots 'Fresh Off the Boat' for Tuesdays After Wednesday Previews
Fresh Off The Boat
, inspired by chef/provocateur Eddie Huang's bestselling memoir of the same name, will get previewed twice during ABC's Wednesday night comedy block on Wednesday, February 4, before and after
Modern Family
. It will then premiere in its official time slot on Tuesday, February 10 at 8:00pm.
What's up with the double
Fresh
preview night?
WEDNESDAY, FEBRUARY 4, 2015

8:00 PM THE MIDDLE

8:30 PM FRESH OFF THE BOAT

9:00 PM Modern Family

9:31 PM FRESH OFF THE BOAT

10:00 PM Nashville


TUESDAY, FEBRUARY 10, 2015

8:00-8:30 PM FRESH OFF THE BOAT (time slot premiere)

It's a pretty darn good sign. Giving viewers a chance to sample it smack in the middle of ABC's strong lineup of family comedies means the network has a lot of confidence in the show, which has already been generating a ton of buzz. Let's hope that leads to a lot of eyeballs watching the show on Tuesday nights.
Set in 1995,
Fresh Off The Boat
centers on 11-year-old hip hop-loving Eddie Huang and his Taiwanese American family, who experience culture shock when they move from Washington DC's Chinatown to suburban Orlando in pursuit of the American Dream. Or some version of it.
Fresh Off The Boat
stars Randall Park as Louis, Constance Wu as Jessica, Hudson Yang as Eddie, Forrest Wheeler as Emery and Ian Chen as Evan. Eddie Huang provides the voiceover narration.
I've been privy to some of the production on this show over the last few months, and based on everything I've seen,
Fresh Off The Boat
is awesome, and will be unlike anything else on television. But great shows get killed off all the time. The future of this show will be dependent on whether folks tune in. I'm looking forward to it!
See you in front of the tube on February 4 and 10.