'Fast & Furious' director signs on to helm the latest adventure into the final frontier.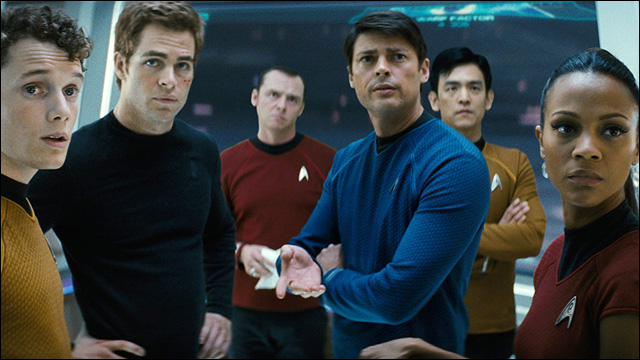 Whaaat. Boldly go and add this to the fat stack of projects on Justin Lin's plate: Space. The final frontier. The
Fast & Furious
director is set to sit in the captain's chair for the third installment of the
Star Trek
franchise.
Star Trek 3's New Director Will Be 'Fast & Furious 6' Helmer Justin Lin
Justin, you're my dude. And you know I love me some
Star Trek
. Let me get the obvious jokes out of the way: I hope we'll get to see the Enterprise in some totally awesome starship races. With an Asian guy driving, no less!
According to Deadline, Paramount Pictures, Skydance Productions and JJ Abrams' Bad Robot have signed on Justin Lin to direct
Star Trek 3
. He steps in for Roberto Orci, who exited the project earlier this month.
He replaces Roberto Orci, who got that job after being involved as co-writer of the revamped Star Trek series. The first two installments were directed by Abrams, who then left to direct a revival of the Star Wars franchise with Star Wars: The Force Awakens. I reported that several top-ranked filmmakers were in contention, but I'm told that Lin was the only one offered the job. He is available because he was going to direct the sequel to The Bourne Legacy spinoff with Jeremy Renner, but that film got postponed when Matt Damon and Paul Greengrass agreed to do another installment of The Bourne Identity, which Universal wants to come first.

Deadline also
reported last month
that Universal was courting Lin to return to the
Fast & Furious
movies -- the studio's most valuable franchise (who would've thunk it?) -- for a possible multi-part finale. But now that he's got the
Star Trek
job, it seems unlikely that it'll happen, at least for a while.
Justin is also directing the first two episodes of
True Detective's
second season. Busy man.
Star Trek 3
will also mark a reunion of sorts for Justin and John Cho, who plays helmsman Hikaru Sulu. They first worked together way back during their indie film days, in
Shopping for Fangs
and
Better Luck Tomorrow
.
More here:
Justin Lin to Direct Third Star Trek Movie