This comment thread is a big box of ignorance bust wide open.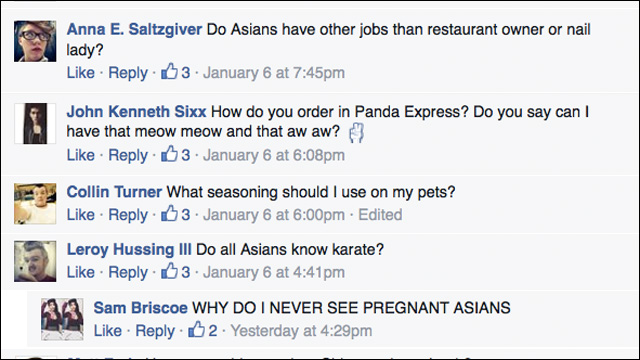 I suppose this was inevitable. My good friend, comedian
Jenny Yang
is teaming up with BuzzFeed to produce an upcoming video called "Ask An Asian," in which she answers questions -- no doubt, with smarts and sass -- about Asian Americans. You know, the stuff you've always wanted to know, but maybe were afraid to ask.
Naturally, to gather some ideas to get them started, BuzzFeed Video posted a call for questions on its
Facebook page
. "Please reply in the comments with questions you have for Asians-Americans." Naturally, the comments were flooded with a truckload of predictably dumbass, ridiculous and/or racist questions.
Like I said, inevitable. Here is just a tiny sampling:
This may have been a big mistake. This comment thread is a big box of ignorance bust wide open. Idiocy unchained. Thankfully, there is also a strong, vocal contingent of commenters calling out people on their bullshit.
I didn't make it through the entire stack -- there are over 6,000 comments -- but I did notice a couple of strange trends emerging from the unfiltered masses:
1. Non-Asians are really obsessed with the shape of our eyes.
2. Non-Asians are extremely worried that workers are talking shit about them in Vietnamese at the nail salon.
3. BuzzFeed's Eugene Lee Yang has a lot of adoring fans.
4. Non-Asians are very concerned with differentiating various east Asian ethnicities (Chinese, Japanese, Korean, etc.), and wonder if we can naturally make this distinction.
5. There are a lot of people who have apparently never seen a pregnant Asian woman. ("Why do we never seen pregnant Asians?") I had no idea this was a thing. We Asians are apparently spawned and hatched.
Damn. If even a fraction of these questions are coming from a real place of curiosity, "Ask An Asian" is probably more necessary than we thought. We need Jenny to drop some knowledge on fools.