"Your welcome."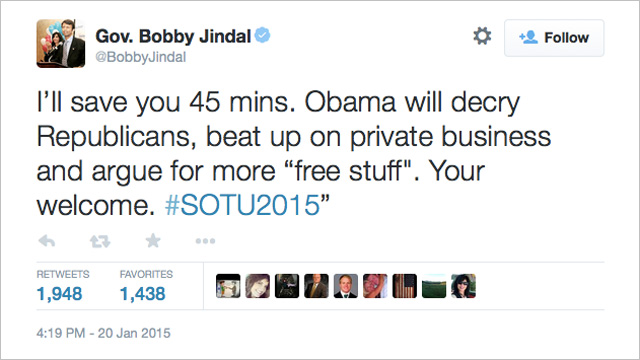 Before President Obama took the podium to deliver his State of the Union address, Louisiana governor Bobby Jindal hopped on Twitter to publicly denounce and dismiss Obama's speech, offering his version of a summary that absolutely nobody asked for. He even smugly signed it off with "Your welcome."
Um, you mean "you're." Classic.
I'll save you 45 mins. Obama will decry Republicans, beat up on private business and argue for more "free stuff". Your welcome. #SOTU2015"

— Gov. Bobby Jindal (@BobbyJindal) January 21, 2015
Thank you, Governor Jindal. The same Governor Jindal who famously warned fellow Republicans that they
"must stop being the stupid party."
This typo is not helping his cause. Nor is it helping anyone to forget his
infamous, disastrous response
to President Obama's first State of the Union address back in 2009.


Perhaps Bobby Jindal should generally stay away from commentary about the State of the Union.