Jeremy came off the bench to lead the Lakers to a 118-111 victory in overtime.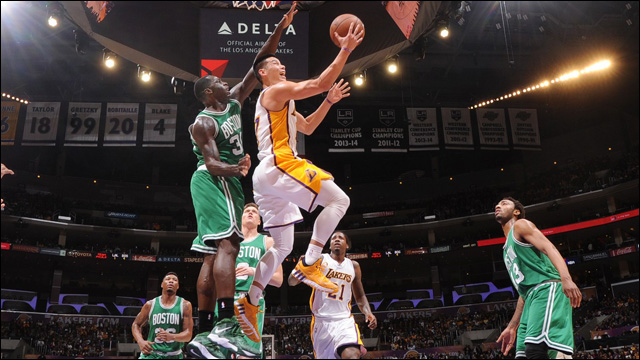 While I was watching the stunningly bad, super white Oscars show last night, I should have changed channels to see Jeremy Lin turn in an awesome performance to help the Lakers beat the Celtics in an overtime victory.
Lakers stop 7-game losing streak with OT win over Celtics
Jeremy came off the bench to score a season-high 25 points, with 6 assists, to lead Los Angeles to a 118-111 overtime victory against their old rivals from Boston, snapping a seven-game losing streak.
Here's a fun
video
with Jeremy's game highlights from Sunday night:
I'm not gonna invoke the "L" word. It's been a while. But man, that felt good to watch.
More here:
VIDEO: Jeremy Lin After Season-High 25 Points In Lakers OT Win
.