Peter Liang pleads not guilty to felony charges in the death of Akai Gurley.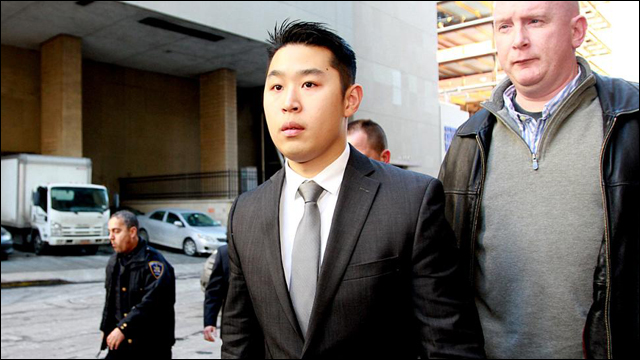 On Wednesday, a rookie New York City police officer pleaded not guilty to manslaughter and other felony charges in the fatal shooting of an unarmed man in the stairwell of a Brooklyn housing project last November.
Peter Liang, NYPD Officer Who Fatally Shot Akai Gurley, Charged With Manslaughter
27-year-old Peter Liang, the first New York City police officer indicted in more than two years in connection with a fatal on-duty encounter, was arraigned in the shooting of 28-year-old Akai Gurley.
The six-count indictment includes several felony charges, including second-degree manslaughter, criminally negligent homicide, second-degree assault, second-degree reckless endangerment and two counts of official misconduct. He pleaded not guilty to all charges.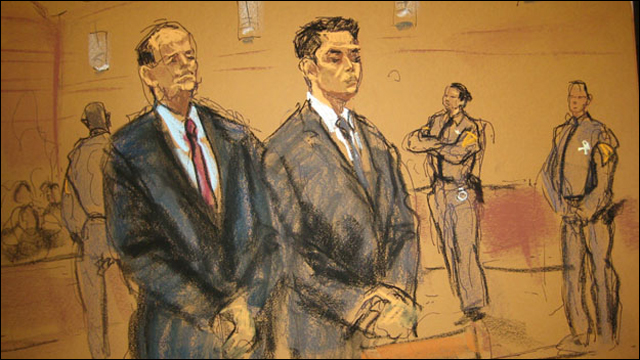 Liang, who had been an officer for about 18 months, was patrolling with his partner in the Louis Pink Houses on November 20, when his gun discharged a single bullet and killed Gurley, who was in the stairwell a flight below with his girlfriend. Liang's attorney maintains that the shooting was an accident.
But prosecutors contend that the shooting was not a mere accident, Officer Liang mishandled his weapon, and was more concerned about his job than the man he had just shot in the chest.
Minutes before, Officer Liang had been on a routine patrol. He approached the stairwell door with his gun in his left hand and a flashlight in the right. Pushing the door open with his right shoulder, he turned to his left and fired, Mr. Thompson said.

"In order to fire the gun, you need a certain amount of pressure to put on the gun," Mr. Thompson said, suggesting he did not believe the shooting could be accidental.

After backing out of the stairwell, the officers argued over whether to call in the gunshot; Officer Liang "refused," Mr. Thompson said. Mr. Thompson did not offer evidence that Officer Liang and his partner, Officer Shaun Landau, immediately realized that someone had been struck. But he suggested they should have suspected as much, having heard the footsteps of Mr. Gurley and a companion, Melissa Butler, as they fled.

Once they stopped arguing and went downstairs, rather than giving Mr. Gurley medical aid or calling an ambulance, said Marc J. Fliedner, the chief of the district attorney's civil rights division, Officer Liang "just stood there."

In his briefing on Wednesday, Brooklyn district attorney Kenneth P. Thompson was careful to stress that the process was focused on one police officer -- not on the police department, or a political agenda or larger national debate. "This case has nothing to do with Ferguson or Eric Garner or any other case," he said. Still, there are concerns that Officer Liang, who is Chinese American, is being used as a scapegoat.
Clearly, it's impossible to talk about this case and divorce it from the growing national conversation on police violence and protests over the use of deadly force by officers on unarmed black men. When an innocent, unarmed citizen is killed by law enforcement, there must be accountability.
If convicted of manslaughter, Liang could face up to fifteen years in prison.
More here:
Officer Charged in Akai Gurley Case Debated Reporting Gunshot, Officials Say
More here:
Race 'Doesn't Matter': Reactions to Officer Liang's Indictment