Gloria Lee pleaded guilty to deliberately setting fire to her business with 27 dogs inside.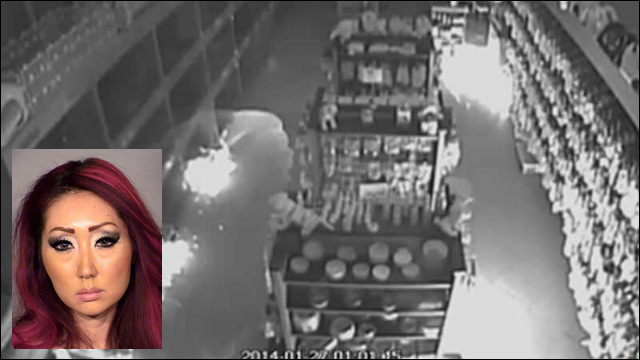 Asians behaving badly... pet store arson edition! In Las Vegas, a pet store owner who deliberately set fire to her business -- with 27 dogs inside -- to collect insurance money has been sentenced to 5 to 14 years in prison.
Gloria Lee ordered to serve 5 to 14 years in pet shop arson
Gloria Lee and her accomplice Kirk Blls were charged with 27 counts of animal cruelty, along with burglary and arson, for attempting to set fire to the Prince and Princess Pet Boutique last year. The flames were extinguished by the sprinkler system and the 25 puppies and 2 older dogs survived.
Lee apparently planned to frame the fire on her husband and collect a $100,000 insurance claim. However, she neglected to disable the store's video surveillance system.
Gloria Lee thought she unplugged a video surveillance system before she helped set fire to the Prince and Princess Pet Boutique fire with 27 dogs inside, prosecutors said Wednesday, but she actually pulled an Internet cord.

Authorities watched the recording that showed Lee letting Kirk Bills into the shop, where he tried to start a fire using kerosene splashed onto the puppy cages.

She had been sleeping with Bills at the time, prosecutors said, and tried to frame her husband for the Jan. 2014 blaze and file a $100,000 insurane claim.

On Wednesday, in an apparent attempt to pursuade a judge to give her probation, Lee said she was three months pregnant with her husband's child.

That didn't work either.

In October, Lee pleaded guilty to first degree arson, insurance fraud and attempted cruelty to animals. Bills also pleaded guilty to arson and attempted cruelty. All 25 of the puppies were okay, and were reportedly adopted out of the Arson Puppy Adoption Drawing. The adult dogs were placed in foster care.
More here:
Gloria Lee announces pregnancy at arson sentencing
.