All but three of the eleven men charged have pleaded guilty in the attack on motorist Alexien Lien.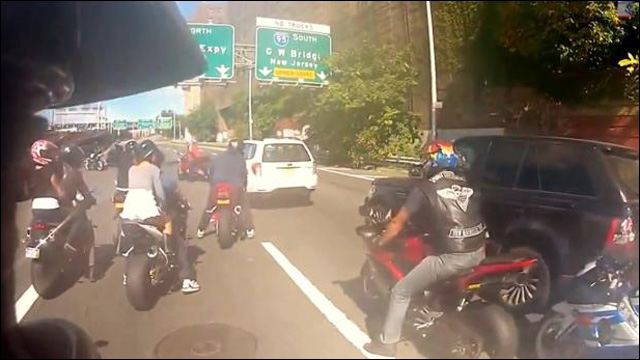 Remember the case of the New York motorist who was chased down the highway by a pack of bikers, pulled out of his car, and beaten on the street in front of his wife and toddler? This week, four of the assailants pleaded guilty for their role in the September 2013 road rage attack.
More plea deals in West Side Highway biker road rage case
For those unfamiliar with the case, here's the abridged version: A motorcyclist, riding with a pack, brake-checks a Range Rover and gets hit. Bikers surround the SUV. The driver, Alexian Lien -- who's with his wife and 2-year-old daughter -- takes off, plowing through several motorcycle riders and sparking a crazy pursuit on the West Side Highway. Driver gets chased down, pulled out of his car and beaten in front of his family.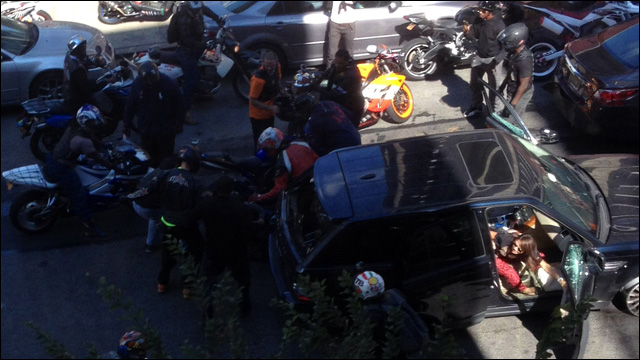 On Wednesday, Craig Wright, Kalik Douglas and James Kuehne pleaded guilty to assault two and riot one for participating in the attack. As part of their plea deals, they will spend two years in state prison. Clint Caldwell also pled guilty to the same charges, but will only serve one year in prison.
All but three of the eleven men charged have pleaded guilty in September 2013 road rage attack. One of the assailants, Wojciech Braszczok -- a now-suspended undercover cop -- rejected a plea offer earlier this month.
Wojciech Braszczok's lawyer John Arlia said that his client would not accept the deal of one year behind bars and asked about setting a trial date in the near future.

"He wants to go to trial," Arlia told Justice Maxwell Wiley.

Braszczok would have had to cop to second-degree assault and riot, both felonies. He maintains his innocence in the group attack on Alexian Lien, which was sparked during a mass motorcycle ride when Lien struck one of the riders.

I can see why this Braszczok guy is especially hell-bent on not going to jail. But good luck with the whole innocence thing. He was caught on camera punching the back window of Lien's SUV, then kicking the passenger side before leaving the scene. He also didn't do a damn, you know, as an officer of the law, while this crazy-ass chase was going down. He didn't report it, then later lied about it.
Like I said, good luck with the innocence thing.
More here:
Undercover cop allegedly involved in biker beatdown of Tribeca dad rejects plea deal